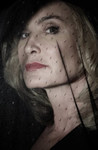 Summary:

For her protection, Zoe (Taissa Farmiga) is sent to Miss Robichaux's Academy for Exceptional Young Ladies in New Orleans. Meanwhile, the return of Coven witch Fiona Goode (Jessica Lange) stirs up an old rivalry.

Genre(s):

Horror
Show Type:

In Season

Season 3 premiere date:

Oct 9, 2013

Episode Length:

60

Air Time:

10:00 PM
[Ryan Murphy's] sharp take on a woman's role is both funny and mordantly serious.

Although the premiere is hampered by unnecessary narration and over-exposition, it's still a bewitching brew of whimsy, psychological scares, horrific atrocities and the wonderfully relentless feeling that something wicked this way comes.

We've come to expect an eclectic mix from the American Horror Story anthology, and the formula works particularly well in this installment, thanks to uninhibited work by the big-name cast.

There are aspects of Coven that are stylish and clever, and others that are just "Carrie" on steroids. The cast, of course, is tremendous.

Fish-eye lenses and rotating cameras don't feel at home here as in other installments, and things aren't creepy so much as grotesque. Still, there are a number of decent effects and a healthy dose of humor that keep things moving along in an entertaining way. Eventually, the many stories find their way together, which helps propel the premiere to its promising finish.

As with all three incarnations of AHS, there are some beautiful images (courtesy of director Alfonso Gomez-Rejon and cinematographer Michael Goi), and Murphy and Falchuk's script exhibits a knowing familiarity with the genre. Still, there's always something unsavory about using the supernatural as a shield to indulge in sex-laced sadism, which has become a common and frankly rather tired aspect of the whole latex-clad-gimp streak running through the series.
This season is very appealing thanks to the cast and the strong story. Gabourey Sidibe has always been on my watch-list and Jamie Brewer's

acting is improving compared to what she showcased on season 1. Taissa Farmiga, Emma Roberts, Jessica Lange, and Denis O'Hare are all doing their jobs well. Frances Conroy and Lily Rabe are indeed two very underrated actresses. And need I say more of Angela Bassett? She's playing Marie Laveau with a very strong set of skills. The only letdown would be Evan Peters, who is not convincing enough for a resurrected zombie-like. Other than that, the story of this season is very potential and I can say that it's been going on the right lane so far. Oh, and the references to popular culture are, as always, intriguing! This is nothing like a lame-teen-superpower-movie whatsoever.

…

Expand

This review contains spoilers, click expand to view.

Love, Love this show it manges to capture a dark side of me the first season 7/10 the rest 10/10 the story lines are amazing and the quality of acting is great the current season 3 covers the true story off Mrs Delphine LaLaurie as cruel vile woman who is famous in New Orleans for her torture and cruelty towards slaves and the ancestors of her captives seeking revenge upon her the writer need to keep up the good work i learned a small piece of history watching this, the actors need to stay and continue the amazing job WATCH THIS NOW ! its booth entertaining and intriguing .

…

Expand

Great season, with a perfect combination of horror, splatter, black humor and good scenario. As for the actors, I cannot emphasize enough, the

quality of their work. Entertaining and fun for all horror lovers!

…

Expand

Loved this show in the past. This season is a little different. The story once again is unique, cleverly written and excellently executed. The

acting is better than ever. But in my eyes, sexual violence is nothing that should ever be shown in any form of entertainment. Any story can always find an alternative route besides using that. Would have been a higher rating if this wasn't included. I may have to stop watching if It happens again

…

Expand

Rating this season higher than the previous two is an act of madness ! I hated from the first time the notice that Taissa Farmiga would be

return in the cast; i think she's the worst actress in the USA ( at least ).
AHS is become a teen-drama, not a horror, and low-level series full of nasty, blood and rough things. I mean, it has to be in some way like this, with withces and their macabre rituals, but Taissa Farmiga change the nature of the series into a low-teen-drama-trouble-heart-series.
This season ? Failed.

…

Expand
Get a full list of this year's Emmy nominees in every major category, with analysis, a look at this year's snubs and surprises, and more.