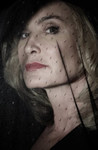 Summary:

After a miscarriage and nearly breaking up, Ben and Vivien Harmon (Dylan McDermott and Connie Britton) move from Boston to Los Angeles with their daughter to start a new life in a house with an eerie past.

Genre(s):

Horror
Show Type:

In Season

Season 1 premiere date:

Oct 5, 2011

Episode Length:

60

Air Time:

10:00 PM
I loved the pilot, mostly because I could never predict where the story was going, a rarity in prime-time TV.

It's funny and moves blindingly fast, barely giving you time to blink or gulp--Dark Shadows for the PlayStation age. [10 Oct 2011, p.39]

The show may be ridiculous, but the humiliation and panic feel real. And there's something to be said for surprise.

The hot mess of American Horror Story is berserk to a fault, though it does have an unnerving originality compelling us to watch while we cringe, or perhaps smirk.

Viewers who like the horror genre and the offbeat Murphy/Falchuk approach, and who are willing to put in enough serious time to absorb all the nuances, will fall in love.

It's fun to look at, but there's not a lot of substance underneath.

It doesn't work as a character drama and it's tiresome more often than it's freakily scary.
Just an amazing show. The fact that each episode could pass for a decent horror movie on its own should tell you something about the quality.

Also, as far as horror and TV go together, I've never seen a show pull off a serialized storyline. Usually you'd get something like Tales from the Crypt or Hitchhiker where each episode is its own story. American Horror Story gives you a great singular story each episode, but they are all woven together as part of a much bigger plot. THAT is good TV, period. But to accomplish that in the horror genre... it takes some skilled writers and producers. Props to anyone involved.

…

Expand

This review contains spoilers, click expand to view.

Love, Love this show it manges to capture a dark side of me the first season 7/10 the rest 10/10 the story lines are amazing and the quality of acting is great the current season 3 covers the true story off Mrs Delphine LaLaurie as cruel vile woman who is famous in New Orleans for her torture and cruelty towards slaves and the ancestors of her captives seeking revenge upon her the writer need to keep up the good work i learned a small piece of history watching this, the actors need to stay and continue the amazing job WATCH THIS NOW ! its booth entertaining and intriguing .

…

Expand

This show did a good job at keeping viewers wanting more. Other than the show "Supernatural", this is the only show with a horror theme on

basic cable. The Pilot is one of the best I've seen the fall season so far. This show is an example why well written shows and good actors makes for great television.

…

Expand

If you're searching for something new, especially if you like horror movie and TV series, American Horror Story is exactly what you're looking

for. This series bring to the horror series scenario something new and very different. While the other horror series are focused on one or more characters hunting ghosts and monsters, in AHS the main characters are the house and its story and it is a story full of mysteries.
In the first two episodes you discover the Harmon family and the other characters related to the house, but if you'll wait the third episode, you will learn the house's secrets, so that you won't like to wait a week to know what's happening after (especially in the episode Halloween, split in two parts, episodes 4 and 5).
The most shocking fact? It is done by the same author of Nip/Tuck (ok, their both crazy shows) and Glee (What???).

…

Expand

The first season of American horror story had great plot, great actors, some interesting twists. It was scary and frightening at some points.

I really liked this tv show. If you like this kind you will really like this little story. American Horror story Murder House. Says much right?

…

Expand

Just finished watching S1 on Netflix.

The show started out strong but by episode 3 I had begun to lose interest.

The show relies on scaring you more than telling you a good story, which is a shame because the cast, especially Jessica Lange, is highly talented. As the season progressed, the writing became sort of lame and in turn made the show very predictable. (I am speaking specifically about the final episode, which could not decide when it should end.)

There were a few good twists in the season, but at times it was hard to keep up with every backstory of the characters involved.

The main question I walked away with after watching the show, was how some of the spirits in the house age over time but others do not. For example, Tate Langston should have been nearly 40 years old but was still a teenager, while Moira the maid had aged normally.

Overall, the acting is great, which is what kept me watching because the story itself I felt left much to be desired. I'm gonna give this one a seven based mostly on the acting.

…

Expand
Get a full list of this year's Emmy nominees in every major category, with analysis, a look at this year's snubs and surprises, and more.