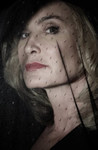 Summary:

After a miscarriage and nearly breaking up, Ben and Vivien Harmon (Dylan McDermott and Connie Britton) move from Boston to Los Angeles with their daughter to start a new life in a house with an eerie past.

Genre(s):

Horror
Show Type:

In Season

Season 1 premiere date:

Oct 5, 2011

Episode Length:

60

Air Time:

10:00 PM
I loved the pilot, mostly because I could never predict where the story was going, a rarity in prime-time TV.

It's funny and moves blindingly fast, barely giving you time to blink or gulp--Dark Shadows for the PlayStation age. [10 Oct 2011, p.39]

The show may be ridiculous, but the humiliation and panic feel real. And there's something to be said for surprise.

The hot mess of American Horror Story is berserk to a fault, though it does have an unnerving originality compelling us to watch while we cringe, or perhaps smirk.

Viewers who like the horror genre and the offbeat Murphy/Falchuk approach, and who are willing to put in enough serious time to absorb all the nuances, will fall in love.

It's fun to look at, but there's not a lot of substance underneath.

It doesn't work as a character drama and it's tiresome more often than it's freakily scary.
Where do I even begin to describe this terrific series? Each week the suspense is turned up another notch, which forces to bring the viewers

back. It is one of the rare horror series to actually work on television, and it is done perfectly. Just when you think you know what is going on, another shocking secret is spilled. American Horror Story is one of the best new series of the year. And will someone please give Jessica Lange an Emmy nomination for her work on this show!?

…

Expand

I am addict of this show.It's so interesting.I can't go away from a show.This is show for like amity ville,the others and so on.I rely like

Jessica Lange because she is cool actor and a singer.

…

Expand

This show did a good job at keeping viewers wanting more. Other than the show "Supernatural", this is the only show with a horror theme on

basic cable. The Pilot is one of the best I've seen the fall season so far. This show is an example why well written shows and good actors makes for great television.

…

Expand

AMERICAN HORROR STORY is a shocking, intriguing and weird TV series that never fails to astound it's viewers with it's fantastic episodes and

brilliantly acting.

…

Expand

Although extremely entertaining and very engrossing American Horror Story is in a way over complicated. As interesting as all the deaths in

the "murder house" are there are so many that certain characters that die seam unimportant and unnecessary. Also despite it's creepy moments and surprises there are never any huge surprises or really horrifying moments. All and all I'm glad I watched this season but there is certainly room for improvement in future seasons.

…

Expand
Get a full list of this year's Emmy nominees in every major category, with analysis, a look at this year's snubs and surprises, and more.