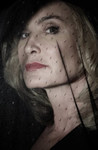 Summary:

After a miscarriage and nearly breaking up, Ben and Vivien Harmon (Dylan McDermott and Connie Britton) move from Boston to Los Angeles with their daughter to start a new life in a house with an eerie past.

Genre(s):

Horror
Show Type:

In Season

Season 1 premiere date:

Oct 5, 2011

Episode Length:

60

Air Time:

10:00 PM
I loved the pilot, mostly because I could never predict where the story was going, a rarity in prime-time TV.

It's funny and moves blindingly fast, barely giving you time to blink or gulp--Dark Shadows for the PlayStation age. [10 Oct 2011, p.39]

The show may be ridiculous, but the humiliation and panic feel real. And there's something to be said for surprise.

The hot mess of American Horror Story is berserk to a fault, though it does have an unnerving originality compelling us to watch while we cringe, or perhaps smirk.

Viewers who like the horror genre and the offbeat Murphy/Falchuk approach, and who are willing to put in enough serious time to absorb all the nuances, will fall in love.

It's fun to look at, but there's not a lot of substance underneath.

It doesn't work as a character drama and it's tiresome more often than it's freakily scary.
i am so obsessed with this show. its so good! the story is amazing there's so many branches where the story extends. its well done. the show

is somewhat creepy but its never meant to be "Scary" yes there are some scary parts but not many. the acting is superb, and its just one of the best shows out now!. if you like shows with a good story, many characters, action, suspense, some what scary scenes. this is the show!. AMAZING!

…

Expand

I was initially hesitant to even just take a first look at the pilot, but reviews were saying it's good so I gave it a try. And while it

didn't start really well, I feel like the show gets better episode after episode. The finale is definitely one of the most satisfying conclusion to any show I've ever seen. The twist was not too predictable which makes it very enjoyable to discover. Didn't think Murphy or Falchuk has it in them!

…

Expand

This show did a good job at keeping viewers wanting more. Other than the show "Supernatural", this is the only show with a horror theme on

basic cable. The Pilot is one of the best I've seen the fall season so far. This show is an example why well written shows and good actors makes for great television.

…

Expand

AMERICAN HORROR STORY is a shocking, intriguing and weird TV series that never fails to astound it's viewers with it's fantastic episodes and

brilliantly acting.

…

Expand

The polar opposite of its second season, American Horror Story: Murder House starts off weak and finishes incredibly strong. Jessica Lange

and Connie Britton are the hilights of this freaky first season.

…

Expand

Television is one of the least diverse genres out there. We see comedy, drama, and crime shows. That's pretty much it. So it's great to see

a horror series on TV other than THE WALKING DEAD.

I enjoyed seeing the familiarity of AMERICAN HORROR STORY. Some things are directly connectible to widely-known horror films (for instance, both the demon baby theme from ROSEMARY'S BABY and the demon child theme from THE OMEN are held); while other themes don't seem fully original, but they do not feel easily related to horror films.

The music used in this program is phenomenal and new. It is not consistent with the same type, as it ranges from an eerie tapping on bells with no instruments accompanying, to piano music that reminds us of John Carpenter's classic soundtrack to HALLOWEEN.

As for a recommendation, I'd say this should be for horror fans only. It is a chilling twist on the classic "haunted house" sub-genre, and at that it is likely to keep horror fanatics watching, but terrify anyone else.

…

Expand
Get a full list of this year's Emmy nominees in every major category, with analysis, a look at this year's snubs and surprises, and more.