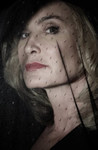 Summary:

After a miscarriage and nearly breaking up, Ben and Vivien Harmon (Dylan McDermott and Connie Britton) move from Boston to Los Angeles with their daughter to start a new life in a house with an eerie past.

Genre(s):

Horror
Show Type:

In Season

Season 1 premiere date:

Oct 5, 2011

Episode Length:

60

Air Time:

10:00 PM
I loved the pilot, mostly because I could never predict where the story was going, a rarity in prime-time TV.

It's funny and moves blindingly fast, barely giving you time to blink or gulp--Dark Shadows for the PlayStation age. [10 Oct 2011, p.39]

The show may be ridiculous, but the humiliation and panic feel real. And there's something to be said for surprise.

The hot mess of American Horror Story is berserk to a fault, though it does have an unnerving originality compelling us to watch while we cringe, or perhaps smirk.

Viewers who like the horror genre and the offbeat Murphy/Falchuk approach, and who are willing to put in enough serious time to absorb all the nuances, will fall in love.

It's fun to look at, but there's not a lot of substance underneath.

It doesn't work as a character drama and it's tiresome more often than it's freakily scary.
Where do I even begin to describe this terrific series? Each week the suspense is turned up another notch, which forces to bring the viewers

back. It is one of the rare horror series to actually work on television, and it is done perfectly. Just when you think you know what is going on, another shocking secret is spilled. American Horror Story is one of the best new series of the year. And will someone please give Jessica Lange an Emmy nomination for her work on this show!?

…

Expand

Замечательный сериал, актеры, сценарий, спецэффекты, режиссура!
Сериал о странной и в тоже время заворажуюющей любви.

This show did a good job at keeping viewers wanting more. Other than the show "Supernatural", this is the only show with a horror theme on

basic cable. The Pilot is one of the best I've seen the fall season so far. This show is an example why well written shows and good actors makes for great television.

…

Expand

every week. the show gets better and better, the story is complex, but you can follow it, you think you will get a LOST type "non-explanation"

but every week more is revealed. This show reminds me of LOST more then any other show, and thats a good thing. Every thing about this show is thought through and entertaining, you can tell the actors are having fun in their roles, everything about this show is amazing, i can't wait for it to come to DVD so i can watch it start to finish in one sitting. it is an amazingly crafted story, i hope season 1 ends with the completion of the current story, and they do a season 2 with a brand new story. Great job coming up with original TV (its so rare these days...)

…

Expand

This review contains spoilers, click expand to view.

American Horror Story is one of the hottest shows on television, but it's origins may surprise you. This innovate, unique drama, has similarities to several different shows, but most closely resembles Tales From The Crypt. Unlike Tales, the American horror stories each last one season instead of one episode. From season to season the story changes as does much of the cast, but one thing remains constant, it has some of the smartest and most daring people behind it. You may know the creators Ryan Murphy and Brad Falchuk, as the guys who brought you Glee, but American Horror Story couldn't be more different. In this series they show a dark twisted side that they could never get away with on network television. As I said the story changes from season to season, so I can't really do a review of the series, but I can tell you about season one. The first season of American Horror Story introduces us to Los Angeles's famous murder house, which since it's creation, ninety years ago, has known nothing but death and heartache. The house is purchased by Dr. Ben Harmon, who knows nothing of the houses history. Dr. Harmon is moving his family across the country to give them a second chance after mistakes and personal tragedies. The story is gripping and easy to follow, but what I liked more were the flashbacks that told the history of the house and explain all the weird stuff that's happening. While the cast features some very experienced, award winning actors, it's a combination of Jessica Lange and Evan Peters who makes this show what it is. Lange is a veteran actress known more for her roles on the big screen, while Peters only just made an impression on me a couple of years ago in the film Clipping Adam. Their unique yet different styles and personalities are the reason this weird show works. In the same way they are able to connect with every character in the show, they are also able to connect with every member of the audience, and that's why they are two of the three cast members who are back for the new story, Asylum. American Horror Story is not like any other show you've seen on television, in fact, I'm pretty surprised they are able to get away with some of the stuff they are doing. It's hard to find a good TV show based on the Horror genre and when you do it's usually a lame comedy. Shows like the Munsters and the Addams Family are legendary, while shows like Harsh Realm and Freaky Links just fizzled out. American Horror Story is different though, as it's innovative and pushes the limits of what you can do on television. It's a show that is most definitely not for everyone, but if you're a fan of the unusual and tired of things like Twilight and The Walking Dead, that go absolutely nowhere, check out American Horror Story, you should be pleasantly surprised.

…

Expand
Get a complete guide to this year's Emmy nominations, including lists of nominees in every major category and reactions from TV critics to this year's snubs.

Get a full list of this year's Emmy nominees in every major category, with analysis, a look at this year's snubs and surprises, and more.