Network:

The CW

Series Premiere Date:

May 20, 2003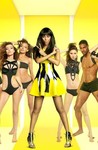 Summary:

Only contestants 5'7 or under compete in the 13th cycle of America's Next Top Model.

Genre(s):

Reality

,

Health & Lifestyle

,

Game Show
Season 13 premiere date:

Sep 9, 2009

Episode Length:

60

Air Time:

09:00 PM
Luckily, kooky personalities can still be found in small packages.

Weirdly enough, every one of tonight's wannabe photos looks better than any photo of any of those pretty-but-average giantesses who "cycled" through Tyra Land before.... The most interesting women are the most trouble, of course.

It's hard to justify watching a 13th cycle of this, and it would be wrong to come out and recommend it. Instead, I'll go with the latest catchphrase from the Jays, who are masters of damning with faint praise: "I'm not mad at it."

Rest assured, the show itself hasn't changed. Producers know better than to violate certain television principles, and what makes this contest work is what always has: that hostess Tyra Banks is one fabulous brand of crazy.

As Cycle 13 of America's Next Top Model gets under way, some of the stories seem sobbier than ever, though the young women telling them are shorter than usual.

Top Model runs smoothly enough so it doesn't need two hours, which means we spend too much time watching the contestants look at pictures of Tyra Banks on the wall of the house where they're staying.