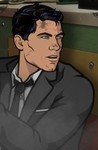 Summary:

Archer Sterling and the ISIS spies return for a second season of espionage.

Genre(s):

Comedy

,

Animation

,

Action & Adventure
Show Type:

Between Seasons

Season 2 premiere date:

Jan 27, 2011

Episode Length:

30

Air Time:

10:00 PM
Like any episode of Archer, telling the jokes does them no justice. You need to find out for yourself why this series is such a politically incorrect gem.

Archer is the next generation version of "Get Smart," with a similarly thickheaded, overconfident, horny hero whose petulant deadpan lines are funnier than they have any right to be.

Congrats to Bob's Burgers star H. Jon Benjamin, who is now voicing the lead on two of TV's funniest shows. [28 Jan 2011, p.68]

Archer is sleekly animated, has a cool retro design, and writing that manages to be both smart and bawdy all at once, but most of all, it has a fantastic voice cast.

In its second season, the spy parody remains my favorite animated series, thanks to its retro visual design--this is a cartoon for the age of Mad Men--and the vicious, dead-aim put-downs that make up most of the dialogue. [14 Mar 2011, p.42]

It's FX scoring again with another out of the box, jump-in-your-face series that most assuredly isn't for everyone but most definitely knows what it's doing.

The trick to Archer is that you have to listen--and watch--carefully. What can be seen and heard on the surface is outlandish, but the real genius of the show is to be found in its seemingly offhand sight gags and throwaway lines.
Here's the thing that makes Archer so great to watch: LAYERS. This show rewards the viewer by delivering a show that works better and better

the more you watch it. The first time you watch an episode it'll make you laugh just with the funny double entendres, crisp animation showing a prostitute loving secret agent blowing the hell out of some bad guys, and the great quips from some pretty amazing voice artists. But this show really shines when you begin to notice all the attention to detail in the script. Almost every episode will start a new inside joke that will build to a great payoff. Or the all of the subtle references the show throws out that you don't need to get in order to enjoy the show, but will make a rewatch just as good as the first time around. This happens a lot.... they'll throw out a reference, you'll have no idea who they're talking about, then you'll randomly see that persons name and be like "Hey that was on Archer!" The show is great. You can relax and laugh at all the easier stuff or you can pay a little more attention and get these much more clever jokes that are begging to be noticed....

No matter how you watch it, the show delivers.

…

Expand

This review contains spoilers, click expand to view.

Archer is killing it this season. From the Wee Baby Shamus arc to amping up the sheer WTF factor, Archer is making season 2 great. The only problem is it only comes on once a week. Between Archer and Justified FX has two of the best shows on television right now.

…

Expand

This show is great in the sense that you need to re-watch it in order to catch everything. There are literally so many great jokes and stories

that you need to watch an episode twice to just get all of them. I love how they actually develop stories, unlike other animated comedies that are simply one-shot episodes. Props to Archer for delivering on all of my wishes for a good and goofy animated comedy!

…

Expand

Though less humorous than season 1 it makes up for it in depth of storyline and character development. It brings the regular characters

together bonding them in extreme and absurd yet believable circumstances.

…

Expand
"Modern Family" is among the 2009-10 season's best new TV shows. Find out which other shows made the cut, and which ones were the biggest failures.