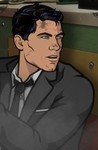 Summary:

Archer is an animated, half-hour comedy set at the International Secret Intelligence Service (ISIS), a spy agency where espionage and global crises are merely opportunities for its highly trained employees to confuse, undermine, betray and royally mess up together.

Genre(s):

Comedy

,

Animation

,

Action & Adventure
Show Type:

Between Seasons

Season 3 premiere date:

Sep 15, 2011

Episode Length:

30

Air Time:

10:00 PM
And we're off and running with another season of great animation, skillful voice acting and hilariously foul-mouthed fun.

Archer proves exactly why it's been so great since the beginning: Smart writing, great voice cast, cool animation and, just so you understand, still more smart writing.

Good start to the third season, and from what I sampled, it builds from there.

A spoofy, sarcastic and hilarious exercise in adult animation.

The animation remains a little crude, but the show is at least trying to be a bit more dynamic in its action sequences this year. And the roughness contributes to the comedy.

I think its jokes are predictable and its '60s-era styling is tired.
This season produces a new set of comedy with same cast of hilarious characters in new ridiculous situations. Every episode is perfect. The

last two in particular are some of my favorites of this show.

…

Expand

Still hilarious and fantastic. It might not hit the high-notes the first two seasons did, but it still continues the expected excellence the

previous two season established. Things like awesome animation, phenomenal voice acting, and humor that is both excellently timed and written are all here. There are also some fantastic guest voice actors. Regardless of whether or not you find it as good as the previous seasons, the 3rd season of "Archer" will still bring tons of laughs and is worth your time.

…

Expand

As good as the previous season imo but not as good as the first. Once again, I'd love to see the secondary characters get more of a backstory

because I am sure it'd be hilarious. Archer is a good lead character but he gets old after a while, Add in other characters to the story would spice things up and keep it fresh. Other then that, It's simply an enjoyable show.

…

Expand

So far Archer season 3 has been sub-par compared to the first 2 amazing seasons. The first season was hilarious, and the during the second

season i literally couldnt stay on the couch because i was always rolling on the floor laughing, but so far with season 3, it's just not to the level of season 2. Am i saying its bad? God no, Archer is still Archer, just not as good as the first 2 seasons. Hopefully the second half of the season will improve. 7.5/10

…

Expand
"Modern Family" is among the 2009-10 season's best new TV shows. Find out which other shows made the cut, and which ones were the biggest failures.