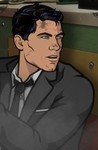 Summary:

Timothy Olyphant and Ron Leibman will guest star this season. Bob's Burgers' Bob Belcher is set to visit the spy world in one episode of the show (with Sterling Archer, also voiced by H. Jon Benjamin, crossing over for one episode of the Fox show).

Genre(s):

Comedy

,

Animation

,

Action & Adventure
Show Type:

Between Seasons

Season 4 premiere date:

Jan 17, 2013

Episode Length:

30

Air Time:

10:00 PM
Archer is a wonder in that its most fiercely flawed characters are its inextinguishable heroes, and their stylized comeuppance arrives in ways that are perpetually unpredictable and altogether resonant within the show's singular, emotionally unhinged universe.

Outrageous lewdness and delightful non sequiturs speed by, which makes each episode rewardingly rewatchable.

The animated comedy returns in stronger comedic shape in its fourth season.

Archer, meanwhile, is all about the funny, and kicks off its fourth season of deranged spy parody.

Even though Archer does occasionally overwhelm its sharp wit with violent fight sequences or simplistic shocks, it usually recovers with a one-two punch of cool animation and skillful wordplay.
Underrated FX jewel, the crisp dry humor of the show only becomes more remarkable, than played out, with smart references and rich

stereotypes. Sterling Archer, though clearly the central character, doesn't overshadow his associates at ISIS, but each adds a dimension to the show with twisted relationships and hilarious personalities.

…

Expand

Awesome and hilarious. This season proves that Archer is still the funniest animated show. There's even a good plot. Instead of just firing

jokes, the season tells a story in a hilarious way.

…

Expand

Season 4 picks up again and introduces a few moments that genuinely made me laugh. Still no new characters but we get to learn a little bit

more about some of the characters other than Archer himself and the season finale was one of the best so far. I'm looking forward to season 5.

…

Expand

Doesn't get better than Archer. We are on the fourth season and it still rocks! This season's episode called Un Chien Tangerine is probably

one of my favorite episodes of the series. This season has had a lot of Lana and Archer, which highlights their great banter. Also, love Pam, Cheryl and Mallory characters. Great show and still going strong.

…

Expand

More Archer is never a bad thing, so yet another fantastic season is something to celebrate. As always this season has a reoccurring jokes

that you have not seen in previous seasons that help give it it's own identity. The characters are just as enjoyable as ever and there tons of great cameos in this season. All together it manages to maintain the high level of comedic quality that has made this series so great. So yeah, it's worth a watch.

…

Expand

Three seasons later, Archer's still got it. Sterling and the other lovable and zany agents of Isis return and are as funny as ever. Expect

many, many cameos and homages (including a great "Bob's Burgers" nod).

…

Expand
"Modern Family" is among the 2009-10 season's best new TV shows. Find out which other shows made the cut, and which ones were the biggest failures.