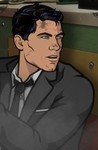 Starring:

Aisha Tyler, Jessica Walter, Chris Parnell

Summary:

The animated comedy from the same people who brought you Adult Swim introduces Sterling Archer, a spy for ISIS, whose boss is also his mother and his ex-girlfriend is a fellow spy.

A sneak peak of episode one was shown in September 2009.

Genre(s):

Comedy

,

Animation

,

Action & Adventure
Creator:

Adam Reed (I)

Show Type:

Between Seasons

Season 1 premiere date:

Jan 14, 2010

Episode Length:

30

Air Time:

10:00 PM
Archer is the rare show that's in love with its own wordplay and good enough that this love becomes endearing rather than annoying.

This spy spoof hits a bull's-eye with risque snark and one of the best vocal casts assembled for any animated series.

The first episode is, maybe to grab the young-guy audience, heavier on the sexplay and lighter on the laughs. But two or three episodes in, the characters and dynamics come together, and the show really begins to kill. Literally and figuratively, but mostly figuratively.

Archer is a millennial (and very much R-rated) "Get Smart" that acerbically and hilariously plays on our post-9/ll fears that "U.S. government intelligence" might be a grim oxymoron.

While the show's humor can be raunchy or even cruel, the voice work is pure unruffled deadpan. [18 Jan 2010, p.42]

The show is fast, funny and smart, although it stoops a little low for punchlines; I could do without the fat jokes and the cheap shot at Indira Gandhi. But the random humor pays off more often than not.

The new series boasts eye-catching animation and dollops of sex and violence but only enough humor to elicit occasional chuckles. If you eliminate the references to sexual perversions, even the smiles are few and far between.
I am a 23 y.o. male, and i grew up with Southpark, and Family Guy. but This Show is so Far past the Idiacrocy that made those two Funny for

me. The Language is a lttle stronge for Kids, but i have not seen anything this Great in a long Time. I literally have Teared from laughing so Hard. This is one of the greatest animation adult comedies i have ever seen... I am Literally Looking forward to every episode. Keep up the Great work.

…

Expand

This show is nothing short of amazing. It's smart, witty, and infectious. A typical episode ends with me rewinding whatever it was I just

watched (I have OnDemand) just to make sure that what I just heard was as funny as I think it was.... it's just that good. Their take on pretty much all things, whether it's manners/spies/social conventions/etc. etc. are spot on, and you'll find yourself laughing at it later on as you replay it in your head. Truly sets the bar for great comedy, and I signed up to metacritic just to post how much I like it because I want this thing to stay on as long as possible so you gotta show the love.

…

Expand

If you like Fisky Dingo you are going to love Archer. One of the funniest shows on TV

All preface by saying this show is not for everyone. In fact, it's probably not for most people. The humor is sophomoric (incredibly so

sometimes) and the jokes can be a bit repetitive. That said, this is my favorite comedy on TV. It's hard to review comedy, as plot, characters, location, etc... all essentially don't matter to me. Sure the music is good and the voice acting is wonderful, but the real barometer, and the one that earns this show a '9' from me, is "does it make me laugh?" The answer: more than any other show on TV. Archer is hilarious. Season 1 is simply outstanding. Watch a single episode and if you like it and the jokes resonate with you, than you'll be in for a great season of TV!

…

Expand

This show is completely hilarious and a lot of fun to watch, every episode had me rolling on the floor, the season finale was a little

disappointing but it's was still hilarious, I highly recommend watching.

…

Expand

I've watched this show straight and I've watched it stoned. I can't find the channel changer fast enough..void of humor...maybe its the

voices that made me cringe...but I would rather pay to see pigeons f%*k than to waste my time with this show..

…

Expand
"Modern Family" is among the 2009-10 season's best new TV shows. Find out which other shows made the cut, and which ones were the biggest failures.