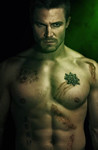 Summary:

After The Undertaking, Felicity and Diggle search for Oliver, as Queen Consolidated faces a hostile takeover, Laurel begins a new job, and Roy finds trouble while trying to save people.

Genre(s):

Drama

,

Action & Adventure
Show Type:

In Season

Season 2 premiere date:

Oct 1, 2012

Episode Length:

60

Air Time:

08:00 PM
The sophomore-season premiere shows no signs of slumping.
I love this show. It is very well written and I think the flashbacks are perfectly executed. On the down side, I think Laurel should be gettin

g more screen times as she is one of the best actors on the show. I like how this season has a different view than the first. The first being about crossing people off the list, and the second being about helping the town.

…

Expand

I never read a comic book in my life. This show is not changing that but it is VERY interesting. The plot is good, the stories don't get stale

and it NEVER EVER drags. Something new happens every single week. This can't be told about other shows; making Arrow superior in that aspect...stories never drag.

…

Expand

Great opening episode to what is hopefully another great season. One of the best shows on television and a true comic book show for any comic

book fans out there.

…

Expand

Nikita has better fight scenes but it just looks more convincing to the audience because of Stephen. The plot of Season 1 regarding the curren

t state of Sterling city was boring and dragging. But in all fairness for Season 2, I wish they could keep up with the momentum of the show by employing better twists and solid plot that is fast-paced. I think I'll still stay watching Arrow if they can provide awesome flashbacks more from Oliver's Lian Yu days on the island.

…

Expand
Published:

November 8, 2012

The new superhero series "Arrow" is a hit for The CW, and the network's best new show in years. How is it holding up after five episodes? Get the latest impressions from critics and recappers inside.