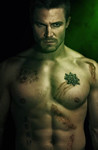 Summary:

Based on the DC comics character, Oliver Queen (Stephen Amell), a son of a billionaire returns to Sterling City after having been stranded on a deserted island and seeks revenge under the guise of the Arrow.

Genre(s):

Drama

,

Action & Adventure
Show Type:

In Season

Season 1 premiere date:

Oct 10, 2012

Episode Length:

60

Air Time:

08:00 PM
Solid start to what could--and maybe should--be a future CW franchise.

Your interest in Arrow depends on how much you miss the troubled-in-love, conflicted-by-family heroics of Smallville--it mirrors that series' setup.

The pilot of Arrow is a darkly gleaming gem. If the show can keep up its cinema-quality action sequences and maintain an air of mystery to Ollie's agenda, this could be a really fun series.

Arrow has a rather stylish neo-Goth look, and Stephen Amell (who played a dim-bulb gigolo in Hung) neatly balances his portrayal of Arrow between camp and Saturday-matinee ingenuousness.

There's nothing particularly new about a superhero show, but Arrow exhibits a stylized ferocity that, in its initial hour at least, makes a positive enough impression.

Arrow may not be a-point-ment television. But for starters at least, it's a sharper little tale than expected.

Arrow certainly looks polished (having David Nutter direct a pilot virtually insures that), but there's only so much action an hourlong drama can afford, and the characters necessary to sustain the series are, initially, strictly two-dimensional, even with the island as a go-to flashback.
It's the best series premiere of this fall season. Everything is right and it has a thing that reminds me of Batman Begins. I only hope they

keep it that way.

…

Expand

Very good depiction of one of DC's main characters. I love this version of Oliver Queen and despite many people's opinions, I love this show.

I have followed DC comics from my early years and have watched almost everything by DC (movies/shows). The plot is intense and the flashback to his days on the island are very insightful and very well incorporated into his life on a day-to-day basis. The writers reference others in the Green Arrow's comic book world very well. They foreshadow characters like the villains Dark Archer and Merlin or even a potential side kick "Speedy", very important characters in Oliver's comic book universe. The pilot of kind of rocky but improved exponentially as each episode passed. Looking forward to a season 2.

…

Expand

As a pilot, this has been a refreshing start and I hope this series continues in the same vein. The writing was strong and the story arcs that

it seems to be developing are all interesting. I look forward to more episodes at this level.

…

Collapse

I sit here going through the reviews of this show and I am shocked to see that people who loved the show got it, and people who hated

completely failed to see the point or understand the story. For instance a guy gives it a horrible review because he watched two episodes and doesn't understand how you get stranded on an island and then become a super fighter and archer just like that. If you watch the whole season you find out how he became trained in those things. Another compares it to Batman, Everyone who has read or knows of the Green Arrow know that that is exactly what it is. DC tried capitalizing on Green Arrow like Batman and realized they couldn't do that. But this shows still goes to the Green Arrows roots.

Now as for my review, going into this and knowing it is a TV show, it is pretty good for a CW show. You would think it would be low budget and not look real at all, however the show doesn't try to do too much with special effects. It does its best on what it's given and succeeds to create a reality that I believe could actually happen. To the people complaining that there is so much gun fire and yet he is never hit, in the first episode or second episode he does but gets right back up, assuming that his costume is bullet proof is key to the whole series. Everyone needs a little imagination and a show like this thrives on that fact.

I was very apprehensive going in because it was a CW show and although Smallville was good, it had an even more low budget feel to it. With shows like S.H.E.I.L.D and the new Batman TV show going into production, I believe there is a place for a higher budget Action series, and Arrow was the great start. I look forward to catching up on season 2 and highly recommend this show to any comic book fan, fan of using their imagination, or someone looking for a fun show.

…

Expand

An action-packed pilot that gives some intriguing mysteries. If this show is handled properly through out the next episodes, this might be one

of CW's next big thing.

…

Expand

This review contains spoilers, click expand to view. i was very excited after the Trailer but with time the Arrow lost momentum and the flashbacks to the island where the only thing that kept me interesting. Manu Bennett managed to keep the show tolerable but after a while even he couldn't help.
More about Arrow -
coolreviewsrule.com

…

Expand
Published:

November 8, 2012

The new superhero series "Arrow" is a hit for The CW, and the network's best new show in years. How is it holding up after five episodes? Get the latest impressions from critics and recappers inside.