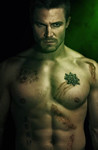 Starring:

Paul Blackthorne, Jamey Sheridan, Willa Holland

Summary:

Based on the DC comics character, Oliver Queen (Stephen Amell), a son of a billionaire returns to Sterling City after having been stranded on a deserted island and seeks revenge under the guise of the Arrow.

Genre(s):

Drama

,

Action & Adventure

Show Type:

In Season

Season 1 premiere date:

Oct 10, 2012

Episode Length:

60

Air Time:

08:00 PM
Solid start to what could--and maybe should--be a future CW franchise.

Your interest in Arrow depends on how much you miss the troubled-in-love, conflicted-by-family heroics of Smallville--it mirrors that series' setup.

The pilot of Arrow is a darkly gleaming gem. If the show can keep up its cinema-quality action sequences and maintain an air of mystery to Ollie's agenda, this could be a really fun series.

Arrow has a rather stylish neo-Goth look, and Stephen Amell (who played a dim-bulb gigolo in Hung) neatly balances his portrayal of Arrow between camp and Saturday-matinee ingenuousness.

There's nothing particularly new about a superhero show, but Arrow exhibits a stylized ferocity that, in its initial hour at least, makes a positive enough impression.

Arrow may not be a-point-ment television. But for starters at least, it's a sharper little tale than expected.

Arrow certainly looks polished (having David Nutter direct a pilot virtually insures that), but there's only so much action an hourlong drama can afford, and the characters necessary to sustain the series are, initially, strictly two-dimensional, even with the island as a go-to flashback.
It's the best series premiere of this fall season. Everything is right and it has a thing that reminds me of Batman Begins. I only hope they

keep it that way.

…

Expand

One of the best new shows of 2012. Drew me in the moment I started watching it. Each episode not only shows Oliver's hunt for the people who

have "failed Starling City" but also shows Oliver's time on the Island.

…

Expand

The pilot episodes does what's it suppose to do, draw us in to the episode. The episode itself is well done and David Nutter is directing.

Stephen Amell as Oliver Queen does good in this episode and I am going to follow this series for now....

…

Expand

What do you get when you mix Nolan's Dark Knight trilogy with 'Gossip Girl'? You get one of this season's surprising hit: a version of super

hero Green Arrow, brought to live in a typical Nolan-esque fashion. It reminds me a lot of another excellent (albeit short lived) TV series based on the Flash, released several short years after Burton's Batman. Sure, it tries to pander to the CW's usual target market: containing hearthrob such as Steve Ammel and Katie Cassidy, but hey..it works. It also brought one of DC's B-Grade super hero into the limelight. Great stuff.

…

Expand

A great show when there arnt too many filler episodes and when its not too "days of our lives" . Gets a 7/10 just because of the wholly

unentertaining soap opera parts that must be there for a target demographic im not part of.

…

Expand

This is the worst TV series i ever seen, its so stupid that i cant understand how it can be so stupid. I remember one episode when he killed

one man all guards so he could take him to the prison... or how blind you have to be to not notice that Oliver is Arrow? Hes from the island, same as Sara and her parents knows shes the vigilanty.. So 1+1 = 2... It's just completly out of sense drama for teen agers or who wants to watch tv without thinking much.

…

Expand
Published:

November 8, 2012

The new superhero series "Arrow" is a hit for The CW, and the network's best new show in years. How is it holding up after five episodes? Get the latest impressions from critics and recappers inside.