Network:

truTV

Series Premiere Date:

Oct 24, 2017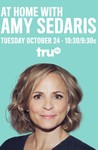 Summary:

The comedic homemaking show created by Amy Sedaris and Paul Dinello will feature a Sedaris as host with a variety of comics such as Rachel Dratch, Chris Elliott and Paul Giamatti set to appear as guest experts.

Genre(s):

Comedy
Season 1 premiere date:

Oct 24, 2017

Episode Length:

30
Sedaris remains, as ever, hilarious, inventive, unbalanced and deeply, joyously, shamelessly twisted. Her new show's not bad either. ... At Home With Amy Sedaris is each of those ["The Frugal Gourmet," "Barefoot Contessa," "Paula's Home Cooking" and "30 Minute Meals"], on acid.

Sedaris has an earnest desire to share her unique brand of hospitality. What she mixes up here is cozy and kooky, with a side of depravity.

As an overall package, At Home With Amy Sedaris is a gleeful hodgepodge of silly jokes, talk show satire, and bubbly innuendo delivered with the gusto of a host who refuses to have anything less than an amazing time. It's fun, it's wacky, it's everything Sedaris does best in one Technicolor package.

A disturbing and delicious beast, a sendup of TV home shows that draws on Ms. Sedaris's sunshiny comic versatility to explore the dark oddities in the back of the spice cabinet.

Sedaris plays crazy better than anyone. At Home is right in her wheelhouse. It manages to send-up the trivial and make it oh-so-important.
She is my Grecian queen. I adore her in all the best ways though they're not always frowned upon by "modern" religions.

Why do I feel likeShe is my Grecian queen. I adore her in all the best ways though they're not always frowned upon by "modern" religions.

Why do I feel like this? Why has this angel cursed me with an unquenchable desire. For it is not to be, we will never taste the nectar of each other's soul, because she is a big deal and I am just a cage dancer in the Keys. When I'm I going to get a break.

My best show ever.

…

Expand

This is exactly the show you'd expect from Amy Sedaris, and I mean that in the best way possible. If you don't know who Amy Sedaris is, this

This is exactly the show you'd expect from Amy Sedaris, and I mean that in the best way possible. If you don't know who Amy Sedaris is, this show is like white trash cookery and crafts delivered with surprising sincerity-- but also totally absurd and vaguely obscene. I've only seen the first two episodes but they were amazing.

…

Expand