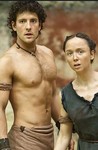 Starring:

Sarah Parish

,

Mark Addy

,

Jemima Rooper

Summary:

During his search for his father, Jason (Jack Donnelly) ends up on the island of Atlantis, where he makes new friends, enemies, and sees a variety of creatures.

[Originally aired on BBC1 beginning 28 Sep 2013]

Genre(s):

Drama

,

Action & Adventure

,

Fantasy
Please enter your birth date to watch this video:
You are not allowed to view this material at this time.
It's too soon to say Atlantis has a great destiny, but the signs are promising.

It will certainly fill viewers minds with misshapen mythology, but does so in a fairly charming, family-friendly way.

As long as you're not a classic mythology purist or looking for something more than a fun, occasionally hilarious sword 'n' sandal romp, Atlantis is a fine, family-friendly addition to BBC America's Supernatural Saturday.

While one suspects Jason will have to wait a while before being reunited with that sub in which his journey began, about the best one can say regarding this leaky vehicle is that it proves slightly better than substandard.

Atlantis is almost as cheesy as one of those Syfy Saturday-night horror spoofs.

Ultimately, Atlantis feels less like a series than a tax write-off doubling as footage to play over a large television overlooking a Las Vegas slot machine.
What an awesome tv show !!! please don't stop making atlantis!!! It's just great... that's all i can haha #150 chars #not great at writing

What an awesome tv show !!! please don't stop making atlantis!!! It's just great... that's all i can haha #150 chars #not great at writing revies #go atlantis !!!!

…

Expand

for someone who doesn't watch a lot of TV because there is not much on that interests me I was surprised by this, it is surprisingly good and

for someone who doesn't watch a lot of TV because there is not much on that interests me I was surprised by this, it is surprisingly good and everyone I know enjoyed watching it. I would recommend this

…

Expand

Despite my initial hostility towards the show because it was replacing the beloved Merlin which graced our screens for five years, had nearly

Despite my initial hostility towards the show because it was replacing the beloved Merlin which graced our screens for five years, had nearly identical plot lines and the same co-producers, by the second/third episodes I was shamefully hooked and recommend it for any Sherlock/Merlin/Doctor Who and many light hearted fantasy fans.

…

Expand

Nice little BBC show which should attract young male viewers. It even somewhat attracted this definitely not young male viewer. Simple

Nice little BBC show which should attract young male viewers. It even somewhat attracted this definitely not young male viewer. Simple production values with simple acting add up to a pretty simple, but pretty watchable show. A little bit of Sci-Fi combined with fantasy and mythology add up to this light entertainment. The mythology part of that tried is notable weak. If you use the mythology from this show to try to sound erudite, you're going to sound pretty stupid. For some reason the writers chose to combine multiple mythological (some real) characters with mythological events with absolutely no regard for literary accuracy. Di you know that Jason slew the Minotaur???

…

Expand

The show has a world famous setting that is beautifully imagined as a set. The three main characters seem to have good chemistry and the

The show has a world famous setting that is beautifully imagined as a set. The three main characters seem to have good chemistry and the costume and music design are both really impressive. The show's flaws are obvious though. The inclusion of mythical characters that are not convincing can be quite tedious. Jason is not a strong character either and combat scenes are quite pathetic at times. A decent series that can be quite comedic, it is difficult to see aspirations further than that for the show though.

…

Expand

With all the new shows, I like to check out the pilot of each, to see if I like it enough to add it to my DVR. Atlantis did not hold my

With all the new shows, I like to check out the pilot of each, to see if I like it enough to add it to my DVR. Atlantis did not hold my interest enough for me to watch the next episode. I think it would be good for families.

…

Expand

Sorry to say, this is a bad TV show. I confess that I only saw the 1st episode, and even that was too much for me. It's kind of a wannabe

Sorry to say, this is a bad TV show. I confess that I only saw the 1st episode, and even that was too much for me. It's kind of a wannabe Hercules, but in a bad way. Add 5 points to my score, if you're between 5 and 9 years old and subtract 2 if you're over 30.

…

Expand