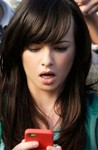 Summary:

Jenna (Ashley Rickards) made her choice between Jake or Matty, but there's still more drama for the teenager with her mother.

Genre(s):

Comedy
Show Type:

In Season

Season 2 premiere date:

Jun 28, 2012

Episode Length:

30

Air Time:

10:00 PM
It's the best show on MTV--and one of the best on any network this summer. [6 Jul 2012, p.71]

The spirit of John Hughes lives on in this rowdy ensemble of insecure spazzes and delightfully fresh mean girls (yes, we're talking about you, Sadie).

Jenna's buoyancy in a life of constant land mines keeps Awkward fun and refreshing.

If it doesn't have the ABC sitcom's [Suburgatory's] satiric sheen, it captures some of those glum patches that strike in adolescence. [2 Jul 2012, p.38]

The performance quality of the show is matched only by the sharpness of the writing.

The relationship plots are less interesting to me than the comedy.

Awkward has grown and matured, but I don't think I love the direction that MTV and, presumably, Iungerich have chosen to push the show.
This show became tripe as its first season wore on, and season two continues its abysmal journey. In season two it fully embraces a central

concept of a popular girl and a ridiculous Twilight-style love triangle. How edgy. That Jenna "chooses" Matty, the reprehensible creature who had a relationship with her but kept it secret because she was beneath his social position, is a final nail in the coffin. Ignoring any notion of self-respect, Jenna chooses the hotter guy who so seriously abused her. Of course, Matty is now presented as a sterling guy, a worthy challenger to nice guy, Jake, even as he uses another girl while pining for Jenna. That this show is aimed at teenagers is a disgrace in and of itself. What is the message? Go with the hot guy who you crush on, no matter how disgusting his behaviors are. The first few episodes of season one showed a great deal of promise. I kept waiting for Jenna to come to the realization that she respected herself too much to bother with the likes of Matty. No. Matty's abs were too alluring. God, I came to hate this show so very much.

…

Expand
Summer will bring some of TV's best shows (including "Breaking Bad" and "Louie," and--possibly--new shows like "The Newsroom"). Inside, we look at the 20 most noteworthy series, specials, and miniseries coming this summer. You'll also find a full calendar of premiere dates from now through August.