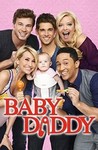 Starring:

Tahj Mowry

,

Melissa Peterman

,

Jean-Luc Bilodeau

Summary:

After Ben's (Jean-Luc Bilodeau) ex-girlfriend leaves him with his baby daughter he never knew about, he decides to raise her with the help of his mother Bonnie (Melissa Peterman), his brother Danny (Derek Theler), and his best friends Tucker (Tahj Mowry) and Riley (Chelsea Kane).

Genre(s):

Comedy
Creator:

Dan Berendsen

Season 1 premiere date:

Jun 20, 2012

Episode Length:

30
Please enter your birth date to watch this video:
You are not allowed to view this material at this time.
This sitcom makes enough rooms for fresh gags. [22 Jun 2012, p.55]

Fox's "Raising Hope" manages to be both more outrageous and realistic than this flimsy, forgettable time-waster.

Baby Daddy has no real point of view, no real comedic voice and one very cute infant.

Even if you could forgive its lack of creativity, it's difficult to overlook its absurdly clunky execution. Oh, and the fact that it isn't very funny.

It's also similar to Fox's "Raising Hope," except that "Raising Hope" offers smart comedy and Baby Daddy is stuck in the realm of TGIF humor.

The cast is cheerful enough--and a lot younger than Tom Selleck, Ted Danson and Steve Guttenberg--but there's really not much to be done with a concept this stale, or characters this thinly defined.
This how makes me laugh so much, the characters are hilarious and cheesy. None of it has ever made me want to quit watching this show. Bonnie,

This how makes me laugh so much, the characters are hilarious and cheesy. None of it has ever made me want to quit watching this show. Bonnie, and her crazy obsession with Bon Jovi makes me smile every episode. Then there is holy hotness Danny Wheeler, him and Riley make me feel like they are the legit couple goals. And then there is baby Emma, can we say adorable! Anyway I love this show.

…

Expand

This show is my sec fav! I love bonnie! She so funny. This show has a good story line. I got addicted to the show when i watched the pilot. I

This show is my sec fav! I love bonnie! She so funny. This show has a good story line. I got addicted to the show when i watched the pilot. I love this show!

…

Expand

es hermosa me encanta cada capitulo los personajes riley ben danny tucker y porsupuesto bonnie como es la trama me fascina ojala que siga por

es hermosa me encanta cada capitulo los personajes riley ben danny tucker y porsupuesto bonnie como es la trama me fascina ojala que siga por mucho tiempo mas

…

Expand

It was funny and emotional. I enjoyed the pilot. I can predict it will b one of my favorite shows. The character-bonnie was clearly funny just

It was funny and emotional. I enjoyed the pilot. I can predict it will b one of my favorite shows. The character-bonnie was clearly funny just like mowry. It has comedy n a little of romance...give it time; it should get better once u fall in love with the characters.

…

Expand

This is a good time waster, this is a decent comedy show. The main character Ben is not that interesting but the soppourting cast Riley,

This is a good time waster, this is a decent comedy show. The main character Ben is not that interesting but the soppourting cast Riley, Tucker, Bens mom, and Danny are outstanding personalities. This show is decent but it also shows a lot of potential.

…

Expand

[Judging from the first episode.] I've seen many shows start out like this: Scratchy. Some of the cast say their lines as if they were amateur

[Judging from the first episode.] I've seen many shows start out like this: Scratchy. Some of the cast say their lines as if they were amateur actors, and some actions are unbelievable. The first episode was to the point when it comes to introducing the characters, and I'm not a fan of that. Going to the jokes, they are funny! But the tone of some of them made them not-so believable. But I can tell this show has a great chance of getting better, because the plot of the show is funny and watchable. These actors aren't the best, and they aren't the worst, I can tell they'll get better. I'll keep watching this show, see how things go in the future, as I really do believe in this show.

…

Expand

That this show would score in the green (a healthy 6.6 no less - woot! we didn't fail!) probably says more about Americans than the show.

That this show would score in the green (a healthy 6.6 no less - woot! we didn't fail!) probably says more about Americans than the show. Within the first 5 minutes of the joyless, high-school scripted pilot, we're actually treated to a "what could possibly go wrong?" gag with the three bros on one side of the door and the baby on the other. That's the honest to god setup, "life is great! Ding dong. Whaaaa???" Admit it, you can visualize the crazy eyerolls and slo-mo head turn. I just want to punch myself in the soul for even watching this far in. But I was curious in the same way as when I stood in front of the mirror and whispered "Bloody Mary... Bloody Mary... Bloody Mary..."

…

Expand