Network:

The CW

Series Premiere Date:

Jul 14, 2014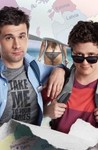 Starring:

Noah Reid

,

Dillon Casey

Summary:

Originally a digital series, the comedy follows best friends Ryan (Noah Reid) and Brandon (Dillon Casey) as they travel throughout Europe searching for Ryan's fiancé Beth.

Genre(s):

Comedy
Season 1 premiere date:

Jul 14, 2014
The transition from web series to half-hour episodes makes for some awkward pacing, as a single episode blasts through three or four different comic setups and lacks the typical thematic structure of episodic television. Nonetheless, Backpackers generates effective momentum through recurring characters and increasingly heightened situations.

This may be how it is among the backpacking young nowadays; surely, we are meant to see them as passionate, in their individual ways. Yet the whole business feels a little shallow.

Backpakers benefits from filming on location in Europe but that can't make up for the lowest common denominator escapades, which play like an unfunny, made-for-TV "Road Trip."

With no character development and too many plot jumps, Backpackers could use a rest stop.

Not worth sitting through for the scenery when you can switch to Travel Channel.
I watched this show when it was a series of online webisodes and boy was it thin. It's a little bit hard for me to believe that they brought

I watched this show when it was a series of online webisodes and boy was it thin. It's a little bit hard for me to believe that they brought it to network television. Picture the first 15 or 20 minutes of any Hostel movie and then take out all the horror and you have backpackers.

…

Expand

This show is terrible, it's like Eurotrip and Roadtrip but worse. Also, is it just me or is the sound off? The music is really loud and drowns

This show is terrible, it's like Eurotrip and Roadtrip but worse. Also, is it just me or is the sound off? The music is really loud and drowns out the dialogue. It's like they were trying to mask how bad the dialogue is!

…

Expand