Network:

Syfy

Series Premiere Date:

Dec 8, 2003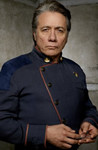 Starring:

Mary McDonnell

,

Edward James Olmos

,

Katee Sackhoff

Summary:

The 20-episode third season of the acclaimed series picks up where season two unexpectedly ended: pitting humans against Cylons on the planet of New Caprica.

Genre(s):

Drama

,

Action & Adventure

,

Science Fiction
Season 3 premiere date:

Oct 6, 2006

Episode Length:

60
One of TV's most invigorating and intellectually stimulating series.... provocative television that transcends its genre.

This is a show about religion, politics, parent-child relationships, and the moral dilemmas of insurgency. Consider it a workplace drama where the business is armed resistance.

Any show that can accommodate decadent cruelty, tragic bravery, and political divisiveness is one you ought to be watching, frakkin' spaceships or not.

[The] third season... provides a[n] unpredictable, fascinating take on events dominating real-world headlines.

"Battlestar" is many cuts above the usual outer-space shoot-'em-up.
Absolutely astounding! I'm not a sci-fi fan but this is the most amazing series that I have ever had the privaledge of watching.

Fantatstic!!Best show of the fall season by far.

Amazing, superb acting and directing... this and Lost are one of the most innovative and exciting shows to air on screen ever... makes tv a

Amazing, superb acting and directing... this and Lost are one of the most innovative and exciting shows to air on screen ever... makes tv a worthwile medium again... you don't have to be a Scifi fan to love this, it stands on its own

…

Expand

This series deserves its own genre. Brilliant, beautiful, well-acted, and extremely well written. Flawless use of CGI.

This is one of the best shows out there. The plot is fantastic, incorporating such sc-fi classics as sentient machines, the definition of

This is one of the best shows out there. The plot is fantastic, incorporating such sc-fi classics as sentient machines, the definition of intelligence and Lovecraftian ancient astronauts. The special effects are excellent on the whole, but whatever company does it needs work on it's smoke effects.

…

Expand

Man this show is total crap. They use human cyclons cheep, They use 9mm, they drive humvees and world war 2 6 wheelers come on get real. Then

Man this show is total crap. They use human cyclons cheep, They use 9mm, they drive humvees and world war 2 6 wheelers come on get real. Then they biker and fight so much i don

…

Expand