Network:

Syfy

Series Premiere Date:

Dec 8, 2003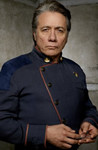 Starring:

Michelle Forbes

,

Alessandro Juliani

,

Mary McDonnell

Summary:

The final season picks up from last season's revelations of Cyclons amongst the crew and the return of the presumed deceased Starbuck.

Genre(s):

Drama

,

Action & Adventure

,

Science Fiction
Season 4 premiere date:

Apr 4, 2008

Episode Length:

60
The premiere should please fans who consider Battlestar Galactica a landmark and entice newcomers to look at previous seasons on DVD.

The series' brilliant conceit is that enemies are often sane and rational, and many good guys and gals are obsessed, flawed, and ruthless.

Simply put, the journey of Battlestar Galactica is one long, exhilarating headtrip.

Only one thing is for certain: Even if you're skeptical of science fiction, Battlestar Galactica will make a true believer out of you.

Though Sci Fi only sent one Season 4 episode for review, it looks as though the prodigal pilot, as well as the rest of the Galactica crew, is in for a bumpy ride.

Riveting as ever, Battlestar Galactica proves again that sci fi doesn't have to be clap trap.

To be honest, I'm weary of Baltar and his endless visions/hallucinations, as I am of the fleet's wandering as the surviving colonists try, somewhat fitfully, to find their way back to a home planet none of them remembers.
Things are coming to a head for the characters of Galactica, with Starbuck's mad quest, grumblings of rebellion among the fleet, and the

Things are coming to a head for the characters of Galactica, with Starbuck's mad quest, grumblings of rebellion among the fleet, and the shocking revelation of the final five (in one of the greatest scenes ever put to film.) I found this season to be a seamless continuation of the BSG story and an edge-of-your seat political thrill ride.

…

Expand

This season has been good in so many levels... Many of the mysteries are discovered. Now it's about the characters... If there's

This season has been good in so many levels... Many of the mysteries are discovered. Now it's about the characters... If there's one problem with this season so far, it's the fact that too much is happening too quickly.

…

Expand

The best Frakkin show on TV! Possibly my favorite drama of all time and there's a ton I love over the years.

The only reason it gets a 9 and not a full 10 is that I'm wary of the all-female religious cult that Baltar has been adopted by...hmmm,

The only reason it gets a 9 and not a full 10 is that I'm wary of the all-female religious cult that Baltar has been adopted by...hmmm, no one would EVER notice him being smuggled away in that bright orange blanket. Otherwise, BSG is as amazing and intelligent as ever.

…

Expand

Should go down as one the greats. Philosophical, spiritual, beautiful, ugly, violent, and most of the time extremely well done. This series

Should go down as one the greats. Philosophical, spiritual, beautiful, ugly, violent, and most of the time extremely well done. This series I believe ranks in the top 5 of The Wire, Sopranos, and Breaking Bad. The shows human elements are so well constructed and by the time I hit the 4th season my brain was already melted. There are few wayward episodes that do not move the story forward, and some of the characters presences and acting are better than others, but believe this series fracking rocks.

…

Expand

A great concept. A good, but uneven start. Based on Whedon's track-record it's well worth giving it his usual period to mature.

This 4 season is the biggest delusion of my life (as a TV watcher of course.)