Network:

Syfy

Series Premiere Date:

Jan 13, 2014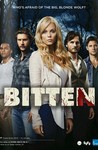 Starring:

Laura Vandervoort

,

Michael Xavier

,

Greyston Holt

Summary:

Based on the Women of the Otherworld novels by Kelley Armstrong, werewolf Elena Michaels (Laura Vandervoort) has a new life as a photographer and a new boyfriend (Paul Greene) who knows nothing of her secret, but when dead bodies start appearing at her hometown in upstate New York, she is

Based on the Women of the Otherworld novels by Kelley Armstrong, werewolf Elena Michaels (Laura Vandervoort) has a new life as a photographer and a new boyfriend (Paul Greene) who knows nothing of her secret, but when dead bodies start appearing at her hometown in upstate New York, she is pulled back to her former life and ex-boyfriend, Clayton Danvers (Greyston Holt).

…

Expand

Genre(s):

Drama

,

Action & Adventure

,

Fantasy
Please enter your birth date to watch this video:
You are not allowed to view this material at this time.
Though it lacks the production value or special-effects budget of the Twilight movies, Bitten has a smooth, slick look and boasts solid performances.

It's all served up with a pulpy prurience.... And the back stories are doled out slowly, so viewers who haven't read the show's source material, a book by Kelley Armstrong, should expect to feel pleasantly teased.

The premiere could use a little more lore and a lot less angst, but a murder mystery in the woods might keep you holding on another week. [17 Jan 2014, p.61]

Bitten is mildly diverting while also being pretty goofy in spots--even for a werewolf drama.

While there's a fairly dense mythology here, as adapted by Daegan Fryklind Bitten feels stitched together from pieces of werewolf tales of yore--undermined, in terms of casting its own spell, by TV's familiar version of a pack mentality.

The presentation of mythology and backstory, such an important aspect of a show like Bitten, is handled in a laughably inelegant way.

If you are curious about the show, tune into the last 10 minutes of the hour, and you'll learn everything you need to know. Right now, Bitten is a nibble of a show.
its a have to see show it has a lot of action and u never know what will happen next! I enjoy the show so much there are so many twists and

its a have to see show it has a lot of action and u never know what will happen next! I enjoy the show so much there are so many twists and turns and to see what the pack will do next i cant wait Elena is going to have a lot on her plate long with Logan a lot has happened it is a very suspenseful show. And for all the haters out there just cause it's not your type of show does not make it bad i think all the characters look and act great and clay definitely should not shave his face im sure that was from a guys point of view the show is great would change a thing.

…

Expand

This show thoroughly surprised me with it's ever increasing intensity and intriguing plot twists. The only let down for me was the second

This show thoroughly surprised me with it's ever increasing intensity and intriguing plot twists. The only let down for me was the second season where it got a little heavy with the weird magic stuff however I believed they realized that and wrote a terrific last season!. Overall i loved this show and it will be sorely missed!

…

Expand

As someone who has avoided the Syfy channel like the plague due to their normally bad cgi and rip off shows and movies, I didn't have high

As someone who has avoided the Syfy channel like the plague due to their normally bad cgi and rip off shows and movies, I didn't have high hopes for this before watching. I was so, SO wrong—this program blows me away. It's my absolute favorite thing on television, and I find myself counting down the days until I can get my next fix. It follows the storyline of the books so closely that even the few changes they make are acceptable. I'm hoping and praying it gets picked up for a second season.

…

Expand

After a disastrous premiere episode, I'm delighted to say the show has improved steadily. The actors are doing a good job of bringing the

After a disastrous premiere episode, I'm delighted to say the show has improved steadily. The actors are doing a good job of bringing the characters to life, and it's a treat to see Elena, Clay, Jeremy and the whole pack on TV. Differences between the series and the books are not distracting me for now. The CGI however IS distracting from my enjoyment and there is far too much telling the story rather than showing. With such a rich well of mythology to draw from, I hope the show lasts long enough to develop its potential.

…

Expand

For the most part I think they are doing an okay job with the show, I have some complaints as a die-hard Women of the Otherworld fan, first

For the most part I think they are doing an okay job with the show, I have some complaints as a die-hard Women of the Otherworld fan, first and most importantly they made Elena really pathetic. its like no one actually read the book for her character which is sad cause that is who the first 2 books are about. they have her hate all the killing which is not true she actually likes killing mutts she even plays clay for the right to do it herself i.e. chapter 7. Secondly and this probably bothers me the most Clay is SOUTHERN he is supposed to have an accent i quote a southern drawl, now i know its starting and they probably dont have a huge budget but really its just a language coach its part of his character one of the things that makes him even more different from the others in the pack, seriously i think that you need to read the books cause it doesnt seem like anyone has Men of the otherworld is a great backround for the directors and the actors so they can get the right essence. Another thing is they got Logans job wrong he is a lawyer it says so in the book just like Elena is a journalist!
I am watching cause I feel like it is getting better but its just not up to the extreme detail of the books which I understand since Kelly Armstrong didn't get involved, its just disappointing because I want to like the show I really do but its not good enough. I think there is a standard that needs to be reached because the books are so well written and its just not there.

…

Expand

Ok so this show was just awful... let me apologize first for all Torontonians who are foced to cringe at the constant shout outs made each

Ok so this show was just awful... let me apologize first for all Torontonians who are foced to cringe at the constant shout outs made each time this show airs. Let me also apologize for the terrible casting job done by this show. I assure you not all actors here in the great white north are this terrible.

So I watched this with a group and needless to say we all felt the need to blast it. Yes the show is mostly garbage and complete festering dog doo. But there are a few tiny gems. Jeramy isn't casted badly and is a cool actor, clay can be decent when he isn't forced to stoop to the female leads **** acting abilities. Never read the books myself so I can't really judge how its following the series. Only that this is a pretty god awful show and needs to be revamped or something to not make me want to gouge my eyes out. Originally from a small town and no girl looks like that, has a house that geared up, or guys look that Nicklebacky.

Though watching a girl who is supposedly supposed to be on the run from a band of serial killers and kung fu master constantly wear heels is pretty funny and entertaining. I mean like seriously man? Whatever just fap to her later right? -_-

…

Expand

This review contains spoilers, click expand to view. I truly and deeply hate this show. I'm on episode 8 on Netflix and I am done. I tried to like it but I can't. It went from boring to bad to downright disgusting. Sick of seeing people being tied up and tortured. I hate ever single main character and I want all of them to die - especially Clayton who love brutalizing, torturing and killing everyone he can.

The writing stinks and the acting stinks even more.

…

Expand