Network:

Adult Swim

Series Premiere Date:

Aug 7, 2014

Season #:

1

,

1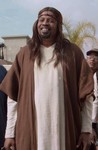 Summary:

The live-action Adult Swim comedy series from The Boondocks creator Aaron McGruder follows Black Jesus (Gerald "Slink" Johnson) and his Compton crew around Los Angeles.

Genre(s):

Comedy

,

Animation

Show Type:

In Season

Season 1 premiere date:

Aug 7, 2014

Episode Length:

30

Air Time:

11:00 PM
The series, which is confident from the start, its world fully formed and well-performed, isn't a retelling.

As offended as some may be, the show's stoner-friendly humor is innocuous.

It's often funny, but it's not infallible. A lot of the first episode plays like a sketch-show bit that drags on too long, tees up giant stereotypes and goes for easy "Wouldn't it be funny if Jesus did ____" gags.

As you'd expect from Mr. McGruder (working with the Canadian writer and director Mike Clattenburg of "Trailer Park Boys"), it's pretty funny if you give it some time.

This live-action series from "The Boondocks'" Aaron McGruder and director Mike Clattenburg is also disarmingly and pretty consistently funny, buoyed by Gerald "Slink" Johnson's portrayal of You Know Who.
Love Black Jesus! This is the best thing to happen to Christianity in a long time. Finally something positive associated with the faith and

a reminder of what it means to follow in Christ's example. Jesus has been depicted as a pasty blue-eyed square for too long. Many of today's Christians think that looking down on and condemning those who they don't approve of is Christian. I doubt that this is exactly how he would appear in the second coming, but he was a man of the people who cared about the poor and disenfranchised. The message is good and the laughs are great. This Jesus could put the people in the pews.

…

Expand

Black Jesus is certainly a different type of show. That's not a bad thing, a satirical comedy about a modern day Jesus living in Compton. If

anyone tells you that this show isn't funny, then they need to lighten up. Black Jesus isn't offensive at all, if anything it brings religion across via a more accessible medium. But the show is very funny, showing Jesus' balance between gangbanging with his friends and showing compassion and kindness to everyone regardless of who they are. The jokes are well thought our and don't consist of only physical and grade-school humor. I recommend for anyone who's a fan of a great comedy that doesn't take itself too seriously.

…

Expand

Aaron McGruder understands the epic comedy coming out of everyday life. Even though there is an all-loving, morally democratic,

miracle-capable, pot-smoking, keeping it real Jesus, it's how he fits into this fabric of a seemingly godless circumstance(the gang violence in Compton) that we find funny.
I'm really glad we have this on Television.

…

Expand