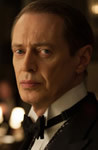 Summary:

The final season of the drama picks up in 1931 as Nucky plans life after Prohibition.

Genre(s):

Drama
Season 5 premiere date:

Sep 7, 2014

Episode Length:

60
Sorting out the sins and sinners in the final eight episodes of Boardwalk Empire promises to be as intriguing as it will be intense.

You don't need to pay attention to the authentic background characters, or the glorious music, or the exquisite clothes, or even the textured dialogue to appreciation the majesty of Boardwalk. In fact, you can strip away the majesty--which the show loves to do--and still have a killer drama.

Forgoing its recent dip into somnambulism, Empire is (literally) all guns blazing again.

Things are more subtly chaotic on Boardwalk Empire this season as well, marked by a season premiere that feels more menacing and violent than the HBO hit often has in the past.

If these first three hours are any guide, Boardwalk looks like it's heading toward a finish worthy of what preceded it--one that might not be black and white, but will at least provide a sense of where all the bodies are buried.

There's a lot of thread here, and less time than usual to knit. In the first three hours anyway, there's too much Empire, too little Boardwalk.
The must under-appreciated show on television, the visuals are stunning and the acting is always on point. I remain convinced that the

The must under-appreciated show on television, the visuals are stunning and the acting is always on point. I remain convinced that the cinematography is the best I have ever seen on television, and I hope the show some day achieves the mainstream success it deserves.

…

Expand

I love Boardwalk Empire sooo much. I never knew it is that controversial life was before and full of shocking events.Having to watch this with

I love Boardwalk Empire sooo much. I never knew it is that controversial life was before and full of shocking events.Having to watch this with the performance of great actors and with the great making of the series itself. Every season is great and awesome.

…

Expand

Just finished watching the season 5 premiere and, wow, it looks marvelous. The show has not lost any of its beauty, grand scope, and charm.

Just finished watching the season 5 premiere and, wow, it looks marvelous. The show has not lost any of its beauty, grand scope, and charm. Pity there are only 7 episodes of this masterpiece show remaining.

…

Expand

Season 5 offered a really creative and entertaining narrative for the one final ride in our favorite(and not so favorite) characters' life.

Season 5 offered a really creative and entertaining narrative for the one final ride in our favorite(and not so favorite) characters' life. The story is being told on two different timelines. One is in the late 19th century detailing Nucky's turn "to the dark side", while the other one jumps ahead 7 years from the season 4 finale and we find ourselves in 1931. In a usual BE fashion the season starts off as a slow burn and pays off in the finale episodes, although it can feel a bit rushed due having only 8 episodes this season and one can tell that this wasn't meant to be the final season, there was still some life left in the show for at least 2-3 or more seasons, but that was not the case, the story needed to be closed and even though characters like Lucky,Lansky,Siegel and Capone were safe for the season, the stakes were high, "no one went quietly" as the official slogen stated. And so no one did. Characters were killed off, some we knew would die some we didn't. OVerall the season offered a satisfying conclusion to a series dealing with politics,prohibition and so on. Dare I say that the finale was more of an artistic/moralistic( if one can say that) then a surprising/shocking one.

…

Expand

The first episode was epic everything I loved about boardwalk empire and looks like this season is gonna be great everything is gonna go out

The first episode was epic everything I loved about boardwalk empire and looks like this season is gonna be great everything is gonna go out with a bang

…

Expand

The series has stayed consistently decent for its entire run, and while season 5 will cap the show, its bound to be a fan favorite for many

The series has stayed consistently decent for its entire run, and while season 5 will cap the show, its bound to be a fan favorite for many years to come.

…

Expand

An average build up to a snore of a final episode. An obvious twist and an almost pointless back story. Nucky's character becomes distant and

An average build up to a snore of a final episode. An obvious twist and an almost pointless back story. Nucky's character becomes distant and boring while others simply go through the motions. A promise of a mob war turns out to be nothing but a kiss goodbye. Great series followed by a big let down.

…

Expand