Network:

FOX

Series Premiere Date:

Sep 13, 2005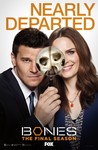 Starring:

David Boreanaz

,

David Boreanaz

,

John Francis Daley

Summary:

Fox's first police procedural is inspired by real-life forensic anthropologist and novelist Kathy Reichs. Its female lead (Deschanel) solves crimes by investigating skeletal remains, aided (or hindered) by her FBI partner (Boreanaz).

Genre(s):

Comedy

,

Drama

,

Suspense
Creator:

Hart Hanson

Season 1 premiere date:

Sep 13, 2005

Episode Length:

60
Please enter your birth date to watch this video:
You are not allowed to view this material at this time.
Boreanaz and Deschanel stir good chemistry as a crime-fighting duo.

You might think you can't possibly fit one more crime-solving procedural onto an overcrowded calendar, but consider giving Bones a break.

Emily Deschanel is well cast as Brennan--she has the right sort of drained, remote presence, as if still working off last night's sleeping pill--and she's also well cast against David Boreanaz. [19 Sep 2005, p.45]

It could use a little more dramatic meat on its predictable framework.

The scientific setup may be intriguing... But the dialogue, including the contrived sexual tension between Temperance and Seeley, is strictly canned and cutesy.

It's as if we've all passed this way (many times) before and could write the dialogue, act the scenes, predict the outcome all in our sleep.
The character dynamics hook audiences, the dark humor appeals, the cases are well-thought out, and the acting is superb on all aspects.

Absolutely incredible. How anyone could give this show less than a 10 probably hasn't watched more than one episode. The cast is amazingly

Absolutely incredible. How anyone could give this show less than a 10 probably hasn't watched more than one episode. The cast is amazingly lovable and consistently believable. Even though this shows has been on for over five years, it never ceases to amaze and interest me time after time with not only its plot, but also its characters which I have grown to enjoy thoroughly.

…

Expand

Fox did one thing right last season. They put Boreanaz and Desheunel together on Bones. It is smart, funny, and intriguing. It would have

Fox did one thing right last season. They put Boreanaz and Desheunel together on Bones. It is smart, funny, and intriguing. It would have more viewers if Fox would leave it on the same day/time. My DVR is even confused. The two actors have alot of chemistry and you can tell they are having alot of fun. Great show.

…

Expand

Excellent show, good character development and plenty of co-star chemistry. David B. was so cool in the last episode.

A recent convert, wish I watched from the beginning!

Forensic anthropologist Dr Temperance Brennan (Deschanel) is regularly called in by law enforcement to assist on murder investigations thanks

Forensic anthropologist Dr Temperance Brennan (Deschanel) is regularly called in by law enforcement to assist on murder investigations thanks to her ability to find clues left behind in the victims bones. On one such occasion she is teamed with Special Agent Booth (Boreanaz) who quickly releases just how useful her insights can be in helping him solve cases.

Make no mistake about it Bones falls very much into that most overcrowded of genres, the crime procedural, as each weeks sees the pair solve a new case. The chemistry between the two leads, while not up to that of Castle and Beckett, certainly helps to keep things humorous and generally enjoyable but as is so often happens with this genre the case of the week formula prevents any real plot development over the course of the series. As a result it is difficult to describe Bones as 'must see' TV and, me for at least, will only ever be a show I watch when there is nothing else on.

…

Expand

This is truly a ridiculous show. First, in every episode, the FBI and the "Jeffersonian" get together to solve crimes, but in practically

This is truly a ridiculous show. First, in every episode, the FBI and the "Jeffersonian" get together to solve crimes, but in practically every single episode, the crime should not involve the FBI, it would be a local police matter. Second, either Emily Deschanel (who plays the titular character) is either an incredibly horrible actress, or she is purposefully playing a character who acts like a robot. In fact, the robot from the 1960's Lost in Space has more personality that "Dr. Temperance 'Bones' Brennan".

…

Expand