Network:

A&E

Series Premiere Date:

Dec 8, 2015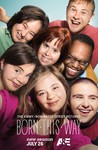 Summary:

The docuseries follows seven young adults with down syndrome in Los Angeles.

Genre(s):

Reality
Season 1 premiere date:

Dec 8, 2015

Episode Length:

60
An eye-opener that's also funny, real and compelling, the series is a heartwarming reminder that no matter who we are, we're all born this way.

The show nonetheless manages to stay dignified and realistic (in a reality-TV kind of way).

Born spends a lot of time following the group as they socialize but is at its most compelling when it tracks the compli­cated bonds tethering these young people to their parents.

The show, with its confessional-style interviews and constant self-promotion within the episode (every commercial break lets you know what's coming next), has the beat and feel of Real World. By treating the cast of Born This Way in much the same way they would treat any reality-show participants, the producers avoid any kind of condescending or patronizing tone.