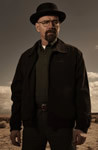 Starring:

Giancarlo Esposito

,

Bryan Cranston

,

Bob Odenkirk

Summary:

Walter (Bryan Cranston) has to deal with the fallout from his dishonesty, which led to the plane crash and his wife, Skyler, leaving him.

Genre(s):

Drama

,

Suspense
Creator:

Vince Gilligan

Season 3 premiere date:

Mar 21, 2010

Episode Length:

50
Please enter your birth date to watch this video:
You are not allowed to view this material at this time.
This show--still TV's best--remains utterly true to itself.

The show keeps delivering the kind of mind-expanding dramatic highs that ought to require a prescription.

Soak in the visuals, listen to the mesmerizing use of sound. The writing and acting will lure you in, but have appreciation for all the details that go into making this series so great.

The stakes couldn't be higher, or the drama more compelling. Breaking Bad is back, badder and better than ever.

Perhaps the most disturbing possibility--the subtext that makes Breaking Bad both enthralling and often unbearable to watch--is that Walter is becoming who he always was. He hasn't changed. He's been purified.

It's a drama that has chosen the slow burn over the flashy explosion, and it's all the hotter for that choice.

Breaking Bad is as good as a show on this subject could possibly get, but the subject has its drawbacks. I like it, I admire it, but I can't say I enjoy it.
Wow, this show just keeps getting better. Dexter now has a rival for my favorite tv show , Breaking Bad is that good. Mad Men is so boring and

Wow, this show just keeps getting better. Dexter now has a rival for my favorite tv show , Breaking Bad is that good. Mad Men is so boring and overrated that Breaking Bad never really interested me that much, but i downloaded the pilot on itunes and subsequently went out and got the dvds. I watched all 3 seasons in like 2 weeks and can't wait for season 4

…

Expand

I've never seen anything like it, refreshingly original and brutally logical. Brilliantly cast and acted all around. It manages to stay

I've never seen anything like it, refreshingly original and brutally logical. Brilliantly cast and acted all around. It manages to stay unpredictable with absolutely no hint of jumping the shark. Just watch it.

…

Expand

This season, has the most deaths compared to the first two. You see some pretty amazing things. There is a lot of good dialogue. Walter get's

This season, has the most deaths compared to the first two. You see some pretty amazing things. There is a lot of good dialogue. Walter get's very dark here, but he is still himself. A great and lengthy season to an unstoppable show!

…

Expand

Why 10 out 10? Keep the story evolving and surprising while showing the effects and consequences of all the decisions made is a really tough

Why 10 out 10? Keep the story evolving and surprising while showing the effects and consequences of all the decisions made is a really tough challange, but Breaking Bed's 3rd season accomplishes that perfectly, keeping you curious, surprised and ancious to see the series evolve, this is a masterpice TV show, this is a 10/10 season.

…

Expand

I've never seen anything like it, refreshingly original and brutally logical. Brilliantly cast and acted all around. It manages to stay

I've never seen anything like it, refreshingly original and brutally logical. Brilliantly cast and acted all around. It manages to stay unpredictable with absolutely no hint of jumping the shark. Just watch it.

…

Expand

Temporada tres fue brillante, la introduccion de los gemelos asesinos, el personaje de Mike, el episodio en el cual Hank estaba a punto de

Temporada tres fue brillante, la introduccion de los gemelos asesinos, el personaje de Mike, el episodio en el cual Hank estaba a punto de morir, el personaje de Gustavo Fring, una temporada muy superior a las dos primeras.

…

Expand

I loved Breaking Bad when it started. The acting, directing and writing were next to none. In particular, its unflinching realism was

I loved Breaking Bad when it started. The acting, directing and writing were next to none. In particular, its unflinching realism was excellent, and the logical difficulties that the protagonist was met with would be the same as it would be the same as it would be for any of us.

By Season 3 however the game has changed. The main character allows himself to be treated like dirt by his wife, who fast becomes one of the most annoying characters on television. Her high-handed, hypocritical, judgemental (and occasionally irrational) moralisation detracts from the complexities of the family's position. Meanwhile, the fact that the main character's response is humility is specifically frustrating.

On the other hand we have the main character and his sidekick/partner fighting "cat and dog" as one character puts it. The reason for their disagreements seem tenuous. This relationship was the underpinning of the series; so its near absence detracts greatly from Breaking Bad Season 3. The new "Big Bad" cartel boss, whilst initially, expertly portrayed, soon veers off into implausibility. Sloppy writing "where did the baby disappear", idiocy "are you going to pepper spray me?" and character changes "lets buy a car-wash" abound. There is no episode without flaws, although episode 5, "Más", is by far the weakest. *pity*

…

Expand