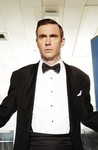 Summary:

In 1961, Dr. Otto Powell (Jack Davenport) and his staff perform illegal abortions, deal with other patients, and their own love lives in this drama set in a OB/GYN unit in a London teaching hospital.

Genre(s):

Drama
Season 1 premiere date:

Aug 24, 2014

Episode Length:

60
Breathless is a pretty near flawless condensation of soap-opera conventions into a delicious little package.

In a summer with so many heavy and dour alternatives (hello, Leftovers), this escapist fluff will be for some just what the doctor ... you know.

Nothing appears to be particularly lived-in, but the look of Breathless is nonetheless breathtaking. That's very good news for a story that tends to linger on the surface.

The clumsy crosscutting between story lines, soapy score and romance, plus heavy-handed writing make for a clunky, sometimes silly affair.
Breathless is a television gem that is almost priceless. I watched all three episodes of the series, and I was disappointed when it was over.

Breathless is a television gem that is almost priceless. I watched all three episodes of the series, and I was disappointed when it was over. Set in London in 1961, it focuses on the medical culture of that period, which was at the time still an outgrowth of the old-fashioned days of medicine when nurses were called "sisters" and wore dark cloaks, white uniforms, and neat little hatbands. Modern medicine had started to emerge after World War II, but the medical culture was slow to catch up with it. All doctors were male; all nurses were female. Doctors and nurses often carried on emotional and romantic intrigues that had to be kept deep, dark secrets from the world of their patients, not to mention other staff members. It was very common for doctors to marry the nurses they fell in love with on the wards. The culture has changed much since 1961—there are now plenty of women doctors, not to mention that doctors no longer smoke cigarettes while they are making their rounds—but the indelible impression left by that antiquated medical model has never completely disappeared, and its inherent nature, both authoritarian and military, is still very much in existence today.

Jack Davenport has the lead role as a gynecological surgeon named Otto Powell. As a British surgeon, Powell is ranked above average doctors and therefore has earned the prestigious title of "Mr. Powell," and not the ordinary title of "Dr." assigned to his colleagues. Davenport has beautifully captured the haughty arrogance of the surgical culture, where his supreme self-confidence and authority are the source of both much respect and much resentment from his colleagues. Underneath this superbly crafted exterior, the character of Otto Powell is a sensitive and desperately lonely man whose marriage to Elizabeth (Natasha Little) harks back to a tragic accident which occurred on the island of Cyprus, where Powell served as a World War II officer. The secret of that accident still haunts him in 1961 and it changed his life, leading to an arranged marriage where he agreed to protect Elizabeth, originally the fiancee of the accident's victim, by marrying her and raising her child. However, that same secret also leaves Powell wide open to blackmail and threats from the one man, police inspector Ronald Mulligan (Iain Glen), who knows what really happened on Cyprus and who also happens to be morbidly obsessed with Powell's wife.

Powell's arranged marriage leaves him emotionally starved, and the details of the arrangement are such that he may permit himself the odd love affair, but his fragile emotional state, so well protected by his professional demeanor, starts to crack at the first sight of Angela, a new, young nurse on his ward (Catherine Steadman). She is immune to him at first, having her own marital problems to deal with, and she is also disapproving of his uncontrolled display of passionate interest in her, which is not borne out by his beautiful home, his attractive and perfect wife, and his tender relationship with his son. The first time Powell sees Angela, he is poring over some paperwork, and only one eye lifts in interest. That subtle gesture was for him the only sign of his undoing. "Your wife doesn't understand you?" Angela quizzes him later in their relationship. "No, my wife understands me very well," he replies. "The romance is over?" she persists in her questioning. "No, there was never any romance," is his curious response.

Added to this were the severe anti-abortion laws of the period, which drove women to seek out dangerous and illegal abortions. Powell and his colleague, Dr. Charlie Enderbury (Shaun Dingwall), perform these procedures in private homes, not so much for the money, but out of the deep conviction that a safe, illegal abortion was better than a life-threatening, illegal abortion. There is also the depiction of other complicated marriages, at a time when marriage was held more sacred than it is today, and divorce was almost unheard of.

Jack Davenport carries the entire series from end to end, with the help of a talented and capable cast, but it is his subtle and brilliant interpretation of the heart and soul of a very complex man that makes Breathless so fascinating.

…

Expand

Breathless left me just that "breathless". I lived through that era and the costumes were very good but I don't remember being treated like

Breathless left me just that "breathless". I lived through that era and the costumes were very good but I don't remember being treated like that. This says "Season 1" so I'm hoping that means there is going to be a Season 2 and even 3. There are a lot of loose threads to tie together and I for one can't wait. I loved Jack Davenport. He was great. Where can I find out if we can expect to see it next season?

…

Expand

I have gotten through episode one and I think I am finished with "Breathless". I know it is supposed to reflect Britain in the late 1940's.

I have gotten through episode one and I think I am finished with "Breathless". I know it is supposed to reflect Britain in the late 1940's. I was here during the 1940's though in the US, not in Britain. Reflecting my experiences back then, I find these characters to be stilted caricatures. The men are entirely clueless of anyone's needs but their own. The women are all doormats. Yes, cultures certainly change with time but I have a feeling someone has written this show who (1) never experienced the 1940's in any way and (2) has a very specific agenda about the plight of women back in the middle 20th century ages.

Love the cars. Hate the people. Don't believe the stories.

…

Expand

I am a big fan of British mysteries but not of this offering. Although the acting and "feel" of the mini-series are terrific the story

I am a big fan of British mysteries but not of this offering. Although the acting and "feel" of the mini-series are terrific the story becomes a silly soap opera. The first (of three) episodes showed promise but as the characters developed they became cartoons of British in the mid/late fifties England. Disappointing.

…

Expand