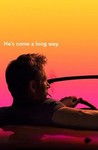 Summary:

Duchovny returns to series television as a writer trying to drink and fornicate his way to happiness.

Genre(s):

Comedy

,

Drama
Show Type:

Between Seasons

Season 1 premiere date:

Aug 13, 2007

Episode Length:

30

Air Time:

10:30 PM
The show is not designed to appeal to prudes, but the writing and the acting are too good to be wasted on the prurient.

Californication is reasonably charming straight out of the gate, and as the story progresses, the intelligence of the writing gains traction.

In Californication, [Duchovny] gets to take full advantage of his low-key comic approach, and the result is irresistible. The rest of the cast matches him riff for riff, especially British actress Natascha McElhone as the disenchanted Karen and young Madeleine Martin as their 12-year-old daughter Becca.

Despite his nearly affectless face and inflectionless voice, Mr. Duchovny does fill the screen as Hank, forcing us to take his side whether we like it or not.

Martin kills as a 12-year-old who is old beyond her years. I might watch just for her. As comedies go, Californication is a bit of a downer, and not just to fans of "The X-Files."

Angst is saved for the final two minutes when Hank is alone, driving at night or sitting in the dark, supposedly brooding over his inability to...what, fit one more lay into the day? Because it's a false dilemma this dishonest, unfunny, dispiritingly crude show presents.
Never been a huge fan of Duchovny. But I think he's found his muse. He instantly takes to the character like it's his second skin.

The writing is far above today's standards. It's like a deep, sarcastic, honest indie movie with legs poised for marathon greatness. Might even be ahead of it's time, but the time we get to spend in that half hour, I truly relish!

…

Expand

One of the funniest shows I have seen in a very long time, great plot, and David Duchovny is hilarious.

Brilliant opening Episode . Duchovny delivers , humor and inner drama with finesse of sarcasm. Finally ( along with WEEDS) ShowTime got

something to match HBO. I have high hopes for Californication.

…

Expand

This show is great! Hank always has something witty and funny to say. The acting is good, the characters are believable and they make you

like/hate them. I'm glad this is coming back for a second season!

…

Expand

It's different then anything else out there on tv. Duchovny surprised everybody, he holds it all together.

Something new even if uncompleted.