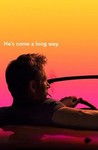 Creator:

Tom Kapinos

Show Type:

Ended

Season 1 premiere date:

Aug 13, 2007

Episode Length:

30

Air Time:

10:30 PM
The show is not designed to appeal to prudes, but the writing and the acting are too good to be wasted on the prurient.

Californication is reasonably charming straight out of the gate, and as the story progresses, the intelligence of the writing gains traction.

In Californication, [Duchovny] gets to take full advantage of his low-key comic approach, and the result is irresistible. The rest of the cast matches him riff for riff, especially British actress Natascha McElhone as the disenchanted Karen and young Madeleine Martin as their 12-year-old daughter Becca.

Despite his nearly affectless face and inflectionless voice, Mr. Duchovny does fill the screen as Hank, forcing us to take his side whether we like it or not.

Martin kills as a 12-year-old who is old beyond her years. I might watch just for her. As comedies go, Californication is a bit of a downer, and not just to fans of "The X-Files."

Angst is saved for the final two minutes when Hank is alone, driving at night or sitting in the dark, supposedly brooding over his inability to...what, fit one more lay into the day? Because it's a false dilemma this dishonest, unfunny, dispiritingly crude show presents.
I don't understand how can you guys don't like? This show is really amazing its fun and sad ay the same time. Its not only about sex, sex and

I don't understand how can you guys don't like? This show is really amazing its fun and sad ay the same time. Its not only about sex, sex and sex again it shows us life of a great writer who cant find his place in this life. Its dirty , it contains bad words, drugs etc. But if u don't like it you can just turn the TV off or watch something else, there's no need to write "its bad for children" or something like that. People who don't like him are just jealous cuz they cant "be" with so big count of women. This is it. I said all I wanted to say. Hope this show will be shown for many years :D

…

Expand

Clever, amusing, and oddly principled.

Brilliant opening Episode . Duchovny delivers , humor and inner drama with finesse of sarcasm. Finally ( along with WEEDS) ShowTime got

Brilliant opening Episode . Duchovny delivers , humor and inner drama with finesse of sarcasm. Finally ( along with WEEDS) ShowTime got something to match HBO. I have high hopes for Californication.

…

Expand

I wasn't really sure whether I'd like it most of the time and I started skipping the agent parts of the story, but Hank's arc

I wasn't really sure whether I'd like it most of the time and I started skipping the agent parts of the story, but Hank's arc is very fresh and far better than outside reviews of the show would have led me to believe. Caveats: it takes a little while to get going though and I'm not sure the second season will be any good.

…

Expand

Though hidden as TV serie based on normal life, it contains elements of the unnatural. Don't take it the wrong way, it has nothing to

Though hidden as TV serie based on normal life, it contains elements of the unnatural. Don't take it the wrong way, it has nothing to with sci-fi, just hilarious settings and plot developments that just hard to belive. In my opinion then that's not a bad thing, I don't watch TV to see how other people live their lives. I want to be entertained with humour, nakedness and depressing scenes. And that's exactly what you are getting when you watch "Californication". This is truly one of the best series I've seen in years. Some people might find the nakedness excessive, but how do you have sex with clothes on? Sure they could have left those parts out, but why would they do that? It's about life and sex is a big part of life, just ask your parents how you came to be.

…

Expand

I find it interesting that the most negative reviews of Californication come from L.A. and New York critics, while the Chicago critics love

I find it interesting that the most negative reviews of Californication come from L.A. and New York critics, while the Chicago critics love it. When a program makes the commercial stage and film capitals of the country fidgety with its portrayal of writers, that's a sure sign that said portrayal is dead on. In Chicago, we take our theatre seriously, and anyone who decides not to whore himself by selling out to Broadway or Hollywood no doubt delights in Duchovny's skewering of the shallow solipsism of the coasts.

…

Expand