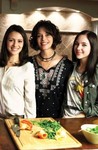 Summary:

Young Boston journalist April (Italia Ricci) is trying to balance her career, a budding romance with coworker Dominic (Richard Brancatisano), as well as her family that includes her mother Sara (Mary Page Keller), younger sister Brenna (Haley Ramm), and grandmother Emma (Rebecca Schull),

Young Boston journalist April (Italia Ricci) is trying to balance her career, a budding romance with coworker Dominic (Richard Brancatisano), as well as her family that includes her mother Sara (Mary Page Keller), younger sister Brenna (Haley Ramm), and grandmother Emma (Rebecca Schull), when she receives news she has cancer.

…

Expand

Genre(s):

Drama
Season 1 premiere date:

Jun 10, 2014
Chasing Life walks a line itself, staying away from sad, but stopping short of sentimental. Ricci makes the balance work, reminding us that a story of a girl with cancer can also be the story of a girl.

As episodes unfold, the relationships resonate, and the characters run deeper.

Through three episodes the series manages to mine the arbitrary nature of her predicament without being cloying--no small feat, given the venue and subject matter.

There are one or two (or five) plot points too many packed into each episode, potentially lessening the impact of any single one but also ensuring that Life won't be one long sobfest.

Though still stumbling around in search of a center, Chasing Life has the potential to tell an interesting story about this one person's particular journey through life after diagnosis--if it doesn't get too caught up in the small details.

The series is an adaptation of popular Mexican tele­novela "Terminales" and doesn't do enough to shake off its more sensational roots. A plot swerve at the end of the hour will set off more groans than gasps.

What Chasing Life mainly raises, though, is eyebrows, for being so laughably bad.
This review contains spoilers, click expand to view. Chasing Life is airing its season finale at 9p on ABC Family tonight and you don't want to miss this gut-wrenching episode.
April (Italia Ricci) learns that her cancer is back. Before she can even comprehend what the doctor (Merrin Dungey) just told her, she finds out that she has to begin chemo is less than 24 hours. If she doesn't, she only has 2-6 weeks to live.
That means she has just one day to get everything done. Live her last moments outside of the hospital, maybe for a month or maybe forever.
If that is all she had to deal with it would be one thing, but there is so much more going on. Her mom (Mary Page Keller) decided to fly out of state to see Uncle George (Steven Weber) and she doesn't know if she is going to make it back in time. Any woman can tell you, she needs her mom whenever she is sick, and April is really really sick.
There's more, the newspaper where she works at is having major layoffs and she might be losing her job. So along with maybe losing her life; if she survives, she won't have a job when she gets out.
There's even more, April got into a fight with Natalie (Jessica Meraz) and she doesn't know if she will still give her bone marrow, If April doesn't get it, her chances of survival are not good to say the least. April decides to have a chat with her half-sister, and their talk will have you balling.
The whole episode will have you crying hysterically. I saw the episode two weeks ago, and I am crying as I write this review. If I was writing this on paper, I would be using it as a tissue. Seriously, I can't even rewatch the episode because it is that tear inducing.
But the episode is all gloom and doom, there is a very sweet scene between Leo (Scott Michael Foster ) and April that you don't want to miss.
It isn't only the writing that makes Chasing Life so believable, it is also the excellent acting that everyone in the cast partakes in. They bring so much heart to the writers' words that it is hard not to get emotionally invested. Why else would I still be crying two weeks after watching an episode? What other show has that power?
Seriously, if those snobs over at the Academy of Television Arts and Sciences don't nominate this show and some of the cast (especially Ricci) for an Emmy then there is something seriously wrong with the voting procedures. Watch tonight's episode with a lot of tissues and don't tell me you aren't completely gutted after the closing credits role.
I know who wants to watch a show that makes you cry, I certainly don't. But Chasing Life is so much more than that. It is heart, family, love and all of that coming together to help someone during the worst time in their life. It is a show worth watching even if it a brings a tear or thousands of them to your eyes.
Chasing Life will be back later this year with its second season.

…

Expand

It's a new style for Abc Family, for the first episode they did very well. I just bringing back more episodes. Italia Ricci is the best

It's a new style for Abc Family, for the first episode they did very well. I just bringing back more episodes. Italia Ricci is the best actress for the role of "April"

…

Expand