Network:

NBC

Series Premiere Date:

Jan 8, 2014

Season #:

1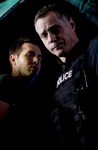 Summary:

The spinoff of Chicago Fire covers the police in Chicago's District 21 including Intelligence Unit Sergeant Hank Voight (Jason Beghe), Detective Antonio Dawson (Jon Seda), Detective Jay Halstead (Jesse Lee Soffer), Detective Erin Lindsay (Sophia Bush), Detective Alvin Olinsky (Elias Koteas),

Detective Sheldon Jin (Archie Kao), Officer Kevin Atwater (LaRoyce Hawkins), rookie Officer Adam Ruzak (Patrick John Fluege), and Officer Kim Burgess (Marina Squerciati).

…

Expand

Genre(s):

Drama

,

Action & Adventure
Show Type:

Hasn't Aired

Season 1 premiere date:

Jan 8, 2014

Air Time:

10:00 PM
The Dick Wolf-produced drama is darker than its sister show, but it packs potential for fun with the city's cops and firefighters crossing paths both on and off the job.

P.D. is as straightforward and meat-and-potatoes as police dramas get--Dick Wolf comfort food.

Chicago P.D. is, in many ways, a throwback to an earlier, male-dominated era of crime shows, yet it carves out room for strong female characters who are good at their jobs and taken seriously by their colleagues--and the writers.

As executed, it almost seems like a parody of the genre.... Beghe's growly, macho performance is hard to stomach, getting in the way of even noticing the attractive supporting cast.

The show is at least meta enough to have the department commander call out the sheer outrageousness of the appointment, but that doesn't make it any more plausible.

Unfortunately, Chicago P.D. is just that--a reminder, a breathy echo of other, much better shows. Many of which are available in affordable DVD packages and on various streaming services.

Chicago PD, is the most arrogantly conceived display of bare-knuckled hooey since the mercifully short-lived Ironside reboot, which polluted the same Wednesday 10/9c time period last fall.
My husband and I really enjoy Chicago PD. We moved away from the northwest side of Chicago (not a suburb) 1.5 years ago to southeast of the

Twin Cities. I had lived my entire life (67years) in the same neighborhood. We love hearing the actors try their best in remembering how to pronounce Chicago - Sh caw go not Sh cah go! We love that we see the actual city, not just the river and el and then filmed in Canada! We are happy that they mentioned particular places and schools even though I haven't heard of Chicago Med(ical) Hospital. I have to say that it does get a little rougher than I would like (in the cage), but we are still happy to see a production in Chicago. Keep it up!

…

Expand

Really wonderful show! Sophia Bush is great and it's not just like every other cop show. Really great, I definitely recommend it!
I find it's

much better than Chicago Fire.. Less melodramatic and more of an actual plot.

…

Expand

A cop spin-off from the fantastic show Chicago Fire. We follow the newly formed intelligence squad, lead by the one and only Sergeant Hank

Voight. Fans of Chicago Fire will remember this guy as the dirty cop who wreaked havoc with Matthew Casey's life. So if you are going to go from watching Chicago Fire to this show then be in for some surprises. The dirty cop has got off the hook, not only is he being released from jail but he was given a promotion. He's a tough character to judge, for some reason he has found a moral compass which now just makes him come off as bipolar. Evil plans one scene then helping out a defenseless kid the next.

Seems to be the run of the mill American cop show, a lot of drama and many unanswered questions. As it is a spin off there will be plot holes, lets hope they can be answered so that viewers of both shows can fully enjoy the story.

Overall this hasn't shown anything new. You do get the odd scene which includes a cast member from Chicago Fire but these sometimes feel awkward and out of place. Give it a chance though, there's some good talent in the show and the story could head in an interesting direction. Only time will tell.

…

Expand

I was excited after watching all the previews, but this really fizzled. I was lost after an unrealistic scene on the first episode where the

guy keeps "cat calling" a police officer even after she identifies herself as a cop. That would NEVER happen, no one is that dumb. Just idiotic writing.

…

Expand

Seriously?? Are we talking about the same Dick Wolf? WTF is this sad excuse for a television show? This is one of the most incoherent cop

melo-dramas I have ever laid my eyes on. No emotion, shifty characters and a story that sucks. How on earth could Dick Wolf produce such **** I swear if this show gets renewed and Law & Order Los Angeles didn't, I'm going to throw a fit. Dick Wolf has lost his touch same counts for Law & Order SVU. Guess the audience now a days just wants a slow scripted show that a 5 year old could comprehend instead of a good written series. I'll stick to watching my law & order episodes from the 90's.

…

Expand

I love the Chicago Fire and was really looking forward
To the Chicago PD. What a disappointment! All the female
Actresses especially the wife of John Seda, she is the
Worst. Sophia Bush is a bad cast for the female lead her acting
Is soap opera C-. I can better, and I'm not even a actress!!
Haha

…

Expand