Network:

FX

Series Premiere Date:

Jan 13, 2014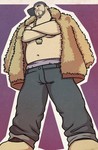 Starring:

Michael Pena

,

Bobby Moynihan

,

Kathryn Hahn

Summary:

After his release from prison, Chozen (Bobby Moynihan), a gay white rapper, looks to top the charts with his new message.

Genre(s):

Comedy

,

Animation

,

Music
Creator:

Grant Dekernion

Season 1 premiere date:

Jan 13, 2014

Episode Length:

30
Like Kenny Powers on that divisive HBO comedy, Chozen is an abrasive, egotistical, violent maniac at times. The writers hit some very funny lines every once in awhile but the show needs more time to click as a weekly series.

An oddball, sometimes clever and sometimes eyebrow-raising new animated comedy series.

The pilot is less than the sum of its creative parts. [17 Jan 2014, p.61]

There are a few amusing lines in the multiple episodes previewed.... Yet while the series ostensibly appears compatible with its lead-in "Archer," there's an art to being aggressively obnoxious, and other than pushing the boundaries of young-male-oriented animation, the similarity pretty well ends there.

Chozen shows he's still got the goods, and his prison years have given him rich material. Among other things, he declares rap needs to be more inclusive, which lays a serious message under the gags. Second, everything gets a lot cruder, an understandable decision that could downshift the show from unique to routine.

Chozen will get more compelling once it focuses on that feud over loutish buffoonery and references to prison sex--which aren't that funny even the first five times they're made. For now, though, it simply mines the gay rapper premise for cheap laughs.

Brain-dead male teens without any social skills or purpose in their lives might find this a highly entertaining diversion from their violent video games.
Great show, a lot of laughs included. It mocks itself with stereotypes and it does it well. Animations are great and so is the voice acting.

Great show, a lot of laughs included. It mocks itself with stereotypes and it does it well. Animations are great and so is the voice acting. Characters are nuts and just plain stupid, but it works!

…

Expand

Chozen is a fun filled comedy about a gay rapper trying to make it big after wrongly set up by his jealous friend it's hilarious and reminds

Chozen is a fun filled comedy about a gay rapper trying to make it big after wrongly set up by his jealous friend it's hilarious and reminds me a little of booondocks (boondocks is funnier) it's a great comedy with alot of potential don't judge by the first episode alone ,it defiantly would be a hit if people give it a far chance.

…

Expand

this show is not for people who get offended at violence, language and all things sexual. but i like the show, its about a gay guy who is set

this show is not for people who get offended at violence, language and all things sexual. but i like the show, its about a gay guy who is set up by a once team member who is now gunning for his old friends spot in the charts......is he gay yes, is it offensive o hell ya but i think thats the stereotype they are trying to play and the main character isnt all bad in his own weird way he cares for his sister (though its not obvious) and the fact hes gay kinda makes it better in my opinion. and the music is good cant beat that if anything else

…

Expand

I thought the first couple of episodes were a bit weak then realised, like in Archer, you're not ~supposed~ to want to respect or want to hang

I thought the first couple of episodes were a bit weak then realised, like in Archer, you're not ~supposed~ to want to respect or want to hang with the main character. He's an unlikeable **** a broken character, but I found myself warming to him over time. Last episode was really something though, worth waiting for - hope it's green lit for a second season.

…

Expand

This review contains spoilers, click expand to view. The first few episodes only hit a few really funny lines and the story did not progress much, with each episode giving the main group of characters a new situation to overcome. By the final three episodes of this season it became hilarious, and the story became increasingly interesting... This show may take time to get people to lighten up and realize it is a pretty good show.

This is a show that has little integrity, when it comes to dealing with taboo issues such as homosexuality, drugs, inner-city violence, man on man rape, sibling relationships that are a bit too close, and other issues. While touching on all of these sensitive issues, this show embodies some rather intellectual forms of self discovery and confidence building through the main character Chozen... Spoiler Alert don't read further if you haven't watched the season finale...

In the final episode Chozen faces an internal demon that his deep in his psyche. So he decides to take a spiritual journey through the use of mescalin. While on his trip, he confronts his younger self that is crying over peeing his pants at a youth spelling bee that he just lost to a younger phantasm. In this moment of self-discovery, he realizes that if you never try the haters will always win, that one must do you.... Put more intellectually without trying one will always fail, and you must always be true to yourself.

…

Expand

Found the storyline, plot development and quirkiness more compelling than the jokes themselves. The use of light-hearted rhetoric and

Found the storyline, plot development and quirkiness more compelling than the jokes themselves. The use of light-hearted rhetoric and unadulterated same-sex relationships strikes a stake into the hearts of older generations who expect culture to be served on a platter. I'm impressed by the shows accurate display of the many insecurities young people now face the second they cut the umbilical cord. My main criticism is the lack of depth in humour which will likely be the shows downfall.

…

Expand

complete garbage. I have to be inundated with cheesy one liners from the show in countless promo commercials. it's completely unfunny and

complete garbage. I have to be inundated with cheesy one liners from the show in countless promo commercials. it's completely unfunny and un-original.

…

Collapse