Network:

USA

Series Premiere Date:

Mar 11, 2014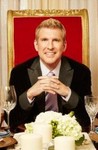 Summary:

The comedic reality show follows the lives of Atlanta-based self-made multimillionaire Todd Chrisley, his wife Julie and their five children.

Genre(s):

Comedy

,

Reality
Season 1 premiere date:

Mar 11, 2014

Episode Length:

30
Please enter your birth date to watch this video:
You are not allowed to view this material at this time.
This is the best "family" reality series since Honey Boo Boo or even The Osbournes from several centuries ago. [31 Mar 2014]

If you can get past the canned lines and sub-sitcom story lines, the Chrisley crew can be fun.

There's an underlying smirk to the proceedings, something the producers appear happy enough to exploit.
Personally, as a educated southerner, it is sad this clearly flaming idiot and his trailer trash family does not reflect the true south.

Personally, as a educated southerner, it is sad this clearly flaming idiot and his trailer trash family does not reflect the true south. Please understand putting diamond ear rings or rolex watches on pigs they are still a pigs--no offense to pigs. These people do not reflect the true south. True southern gents and ladies are not idiots as these people project nor does the true south hold such tacky Identity issues as this show portrays. I hope this show is canceled quickly. It is not, funny, it is not entertaining, and at best tacky. Again, this is not a valid reflection of southern people, families or men. Maybe a few years on a therapy couch might help the key ding on the show -at least, STOP the show (PLEASE!) until he gets his identity issues and confusion resolved.

After a few minutes of watching and quickly turning to another station, it was concluded, the name of the show is best as "How I realized I wanted a sex change." This is, without question, the proper and accurate name for this horrible, none entertaining, dog excrement show. I mean no offense to dog crap.

…

Expand

This show ranks right up there with Honey Boo Boo as an embarrassment to the tv industry! The current real live bankruptcy of the characters

This show ranks right up there with Honey Boo Boo as an embarrassment to the tv industry! The current real live bankruptcy of the characters should convince the tv people to deep six it.

…

Expand