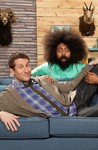 Starring:

Scott Aukerman

,

Scott Aukerman

,

Reggie Watts

Summary:

Jon Hamm, Zach Galifianakis, Michael Cera, David Cross, "Weird Al" Yankovic, Sarah Silverman and Andy Richter are some of the guests on
Scott Aukerman's sketch variety show based on his podcast of the same name.

Genre(s):

Comedy
Creator:

Scott Aukerman

Season 1 premiere date:

Jun 8, 2012

Episode Length:

30
It's an oddity, but the comfortable looseness makes up for the fact that it's really about nothing in particular.

Though it does not seem to be entirely scripted, it is (as opposed to the rambling podcast) highly organized and includes invented guests alongside those appearing as not necessarily reliable versions of themselves.

While it would be unfair to say Comedy Bang! Bang! lacks moments of inventiveness, the whole exercise has the precious feel of a student project.
I love this show. I knew from the podcast it would be special, but what makes it all the better is that it's different from all the other talk

I love this show. I knew from the podcast it would be special, but what makes it all the better is that it's different from all the other talk shows which, while still enjoyable are pretty much carbon copies of each other. Different in a good, better way. Please let there be more of this show.

…

Expand

The only way this show could possibly be better is if it was 2 hours long and on every day. If you are a fan of things that are funny this is

The only way this show could possibly be better is if it was 2 hours long and on every day. If you are a fan of things that are funny this is the show for you and your awesome friends.

…

Collapse

This show is genius. This this first time in ages I've seen comedy I could call "creative" and "new". But importantly, I laughed throughout

This show is genius. This this first time in ages I've seen comedy I could call "creative" and "new". But importantly, I laughed throughout and at times laughed uncontrollably. I find myself sitting here anxiously awaiting another episode. I like it so much I'm going to seek out the podcasts of the same name. I don't expect many critics to get this show. Critics tend to cynically resist things that are fresh and new, because they are unconsciously trying to create a definition of what is art, and so something completely new and original therefore seemingly contradicts that definition.

…

Expand

Off-beat comedy is done right with this funny show hosted by the hilarious Scott Aukerman and the talented Reggie Watts. This show is both

Off-beat comedy is done right with this funny show hosted by the hilarious Scott Aukerman and the talented Reggie Watts. This show is both original and very random, and pulls it off well. If only the show was longer so we could enjoy the comedy of each episode more.

…

Expand

This show can try all it wants, but the truth is that there is almost no sign of comedy anywhere. The ideas behind the show are even worse. I

This show can try all it wants, but the truth is that there is almost no sign of comedy anywhere. The ideas behind the show are even worse. I never really liked IFC's shows, but this one goes below any standard.

…

Expand

This show isn't funny at all. at best it's mediocre. I have tried to watch it multiple times but its impossible to get more than two minutes

This show isn't funny at all. at best it's mediocre. I have tried to watch it multiple times but its impossible to get more than two minutes in before the terrible jokes make me change channels.

…

Expand

I have to try too hard to laugh at this show. I know they get some great guests but laughter should be involuntary and it has never happened

I have to try too hard to laugh at this show. I know they get some great guests but laughter should be involuntary and it has never happened for me while watching. It's as predictable as Gilligan's Island.
Not a prude and I have a great sense of humor (like saying I'm not a racist) but it just never makes me even chuckle. Sorry Comedy Bang Bang but I can't put the effort into watching your show any more. Too much work on my part!!

…

Expand