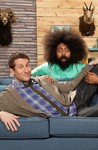 Starring:

Scott Aukerman

,

Reggie Watts

Summary:

Jon Hamm, Zach Galifianakis, Michael Cera, David Cross, "Weird Al" Yankovic, Sarah Silverman and Andy Richter are some of the guests on
Scott Aukerman's sketch variety show based on his podcast of the same name.

Genre(s):

Comedy
Creator:

Scott Aukerman

Season 1 premiere date:

Jun 8, 2012

Episode Length:

30
Please enter your birth date to watch this video:
You are not allowed to view this material at this time.
All in all, fans of Comedy Bang! Bang! should rest easy, knowing that the show continues to hit all the right beats. With a brilliantly eclectic list of guests to come, ranging from rapper T-Pain to comedian Nathan Fielder (from Nathan For You), season 5 promises to continue to surprise and amuse.

It's an oddity, but the comfortable looseness makes up for the fact that it's really about nothing in particular.

Though it does not seem to be entirely scripted, it is (as opposed to the rambling podcast) highly organized and includes invented guests alongside those appearing as not necessarily reliable versions of themselves.

While it would be unfair to say Comedy Bang! Bang! lacks moments of inventiveness, the whole exercise has the precious feel of a student project.
This show is genius. This this first time in ages I've seen comedy I could call "creative" and "new". But importantly, I laughed throughout

This show is genius. This this first time in ages I've seen comedy I could call "creative" and "new". But importantly, I laughed throughout and at times laughed uncontrollably. I find myself sitting here anxiously awaiting another episode. I like it so much I'm going to seek out the podcasts of the same name. I don't expect many critics to get this show. Critics tend to cynically resist things that are fresh and new, because they are unconsciously trying to create a definition of what is art, and so something completely new and original therefore seemingly contradicts that definition.

…

Expand

I love this show. I knew from the podcast it would be special, but what makes it all the better is that it's different from all the other talk

I love this show. I knew from the podcast it would be special, but what makes it all the better is that it's different from all the other talk shows which, while still enjoyable are pretty much carbon copies of each other. Different in a good, better way. Please let there be more of this show.

…

Expand

Being an avid listener to several earwolf podcasts (How Did this Get Made, Professor Blastoff, Who Charter, and occasionally Comedy Bang Bang)

Being an avid listener to several earwolf podcasts (How Did this Get Made, Professor Blastoff, Who Charter, and occasionally Comedy Bang Bang) this show was not what I expected at all. I was expected something closer to The Ricky Gervais Show, almost like a best of shortened version of the podcast, expect live action not animated. The closest comparison I can come up with for Comedy Bang Bang, is that it is like a live action Space Ghost Coast to Coast.

That said, I find this show to be very entertaining and even hilarious at some points (Bob Odenkirk as the "child bird caller"). Yet, some episodes are not as good as others, and many segments fall flat. In my opinion most episodes live and die by how funny the second "fake" guest is.

If you a fan of more obscure or "alternative" comedy than you will likely get several laughs from this show, otherwise you should probably watch something else. 8/10.

…

Expand

This show can try all it wants, but the truth is that there is almost no sign of comedy anywhere. The ideas behind the show are even worse. I

This show can try all it wants, but the truth is that there is almost no sign of comedy anywhere. The ideas behind the show are even worse. I never really liked IFC's shows, but this one goes below any standard.

…

Expand

a coworker played this show in the work truck for an hour. I never even giggled or smiled once. The show was so bad that I was compelled to

a coworker played this show in the work truck for an hour. I never even giggled or smiled once. The show was so bad that I was compelled to create an account on this website just to review it and talk about how horrific it is. This show is absolutely the saddest excuse for "comedy" I've ever heard. It was TERRIBLE. I've never been so bored and disappointed in my life. How ANYONE finds this pathetic childish nonsense funny is beyond me. It is NOT funny, trust me. anyone who somehow enjoys this show is just plain dumb. It sounds like a horribly unprepared high school project. It was so bad that I literally became angry at hope stupid those moronic hosts are. They should quit and go hang themselves for being complete comedic failures. the fact that a few thousand people actually think this show is funny is the reason why our world is screwed. After an hour of suffering through this show, I now know what hell feels like. The hosts of this show should just kill themselves. DONT WASTE YOUR TIME listening to this verbal diarrhea. not even a retarded child could possibly find it funny in any way. I rate this sad excuse for a podcast a zero out of ten. 0/10. I wish I could rate it lower than a zero. It's so unfunny that it makes you forget what funny is. I'm astonished that they have even one single listener. jesus christ what a horrible "show". If any of you idiots like this show, you simply don't understand comedy. GOD what a disaster it is. It's worse than a nuclear bomb exploding in your ears. ZERO out of TEN.

…

Expand

I am in complete and utter shock this show has made it several seasons; I couldn't stomach one whole episode. It's not funny in the

I am in complete and utter shock this show has made it several seasons; I couldn't stomach one whole episode. It's not funny in the slightest...IFC, I could entertain an audience better than these guys, and I've never performed a day in my life. Worst of all, you've made Maya Rudolph seem unfunny, which could be the worst crime of all.
Cancel this show, immediately! Please! Someone! Blargh.

…

Expand

This show is pretty bad, despite the fact that it tries so hard. To say it is original or different is to ignore countless better versions of

This show is pretty bad, despite the fact that it tries so hard. To say it is original or different is to ignore countless better versions of the same material, whether it be on Adult Swim or around the web. Look no farther than "Between Two Ferns", created by the same guy, to find celebrity faux-interviews done much better. The host is not funny. The DJ is not funny. Combined they take annoying to anew level. Aside from the guest stars (whose talents are mostly wasted by bad material), there is nothing to recommend this show. If you want edgy comedy, try Check It Out with Dr. Steve Brule or even Portlandia.

…

Expand