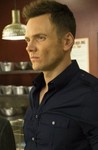 Summary:

Creator Dan Harmon returns as showrunner to helm the fifth season of the comedy, replacing season four executive producers Moses Port and David Guarascio.

Genre(s):

Comedy
Show Type:

Ended

Season 5 premiere date:

Jan 2, 2014

Episode Length:

30

Air Time:

08:00 PM
About as good a Community restart as anyone could have possible hoped for.

If this strong start is anything to go by, the show is going to produce an interesting, challenging, and hilarious batch of episodes for its fifth season. That's reason enough to rejoice for now.

The second episode in particular has touchstones of what made the show so great under Harmon.

In the three episodes sent to critics in advance, Community sounds like itself again.

Whether riffing on the show's past, unruly present ("re-piloting" as an act of reinvention) or unpredictable future, Abed is always hilariously self-aware of the TV and sitcom clichés Community excels in upending.

While it's too early to tell for sure, Harmon does seem to have brought back some of the show's earlier spirit. What he's not doing is making an overt bid for any new, broader audience.
Community is back and better than ever! Hope to see this continue throughout the season! Dan Harmon's return is nothing short of magnificent

and the first two episodes really were a delight. Very quotable

…

Expand

Community is definitely back. Every episode has that "Dan Harmon" vibe to it like they did in the first three seasons. A lot of high concept

plots, inside jokes and hilarity that season 4 did not have enough of. Even after just 5 episodes, Community has regained the "spirit of Greendale" that was seemingly lost in the shuffle of trying to do a "Dan Harmon without Dan Harmon" kind of show last season.

…

Expand

Community Season 5 is back to it's roots with it's Creator/Writer Dan Harmon returning to the show, but there were two other important cast

members who were leaving the show first one being Pierce(Chevy Chase) and the second being Troy(Donald Glover) both who play important roles in the show, with saying that the show has gained the momentum back which made this such a great show, with alot of cameos, I'm looking forward to the rest of the season i just wish it had more than 13 episodes.

…

Expand

Season 5, so far, is great! They address many issues and story lines from the past perfectly. You really feel Dan Harmon's humor coming

through. There's really a sense of the show going back to its roots, while having to deal with the fact they are on their 5th year.

I'm honestly shocked 'Community' doesn't receive more awards for acting... Danny Pudi is brilliant this season. It also appears that Donald Glover was given many classic lines so far, maybe a farewell gift from Dan?

…

Expand

For those of you returning to Community... Welcome Home! No only does the show feel familiar, it feel fresh and new as well. One of the best

shows on TV, especially if you have a little nerd in you.
For those of you new to Community... Welcome Home. While I encourage you to watch the first three seasons before watching season 5, you'll do fine without it.
I thought season 4 was good and many of its 'holes' are answered in the first two episodes of season 5.

…

Expand

Only two episodes in and it is already the best season since season one. The writing is top notch again and marks a great return to form for the show.