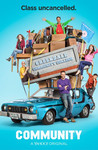 Starring:

Jim Rash

,

Joel McHale

,

Alison Brie

Summary:

After NBC canceled the series, new streaming service Yahoo! Screen picked up the sixth season of the comedy.

Genre(s):

Comedy
Season 6 premiere date:

Mar 17, 2015

Episode Length:

30
Please enter your birth date to watch this video:
You are not allowed to view this material at this time.
All very much and happily remains the same--and unless you are an absolute die-hard insane fan who will find something to complain about here ... there really isn't all that much to complain about whatsoever.

The comic timing isn't as tightly paced as it once was, but there's a certain WTF thrill in watching story lines meander where ever they please. [20/27 Mar 2015, p.92]

The heart remains the same. If you loved it before, you'll still love it. And if Community wasn't your kind of humor in the past, it's not going to be now.

It still feels, moves, and thinks like the Community you know. It has changed, yet it hasn't. Its essence remains.

These episodes are not their finest half-hours, but they're laying a foundation for greater things to come.

The season premiere makes a gentle effort to re-establish the show's shrinking original cast.

While the first episode is comfortingly familiar to Community obsessives, the second one feels weirdly off.
Once again refusing to die, refusing to give into mainstream sensibilities and refusing to stop tugging at our heartstrings, Community's sixth

Once again refusing to die, refusing to give into mainstream sensibilities and refusing to stop tugging at our heartstrings, Community's sixth season not only brings us the insanity we've loved for the past five years, but also brings us a finale so perfectly-pitched and emotional that it serves almost as a therapy session for us Greendale Human Beings.

There's only one more thing left to say... #andamovie

…

Expand

If you're favorite parts of Community are the parts where they just stop caring about reality, you might find this to be the best season so

If you're favorite parts of Community are the parts where they just stop caring about reality, you might find this to be the best season so far. Just sat through the first 3 episodes, I wasn't expecting much but they really surprised me with the quality of this new season. The fact they decided to just go completely insane with the plotlines was in my opinion, really smart.

…

Expand

This season so far has been absolutely phenomenal. Although the cast changes may take a while to get used to at the start, they soon become

This season so far has been absolutely phenomenal. Although the cast changes may take a while to get used to at the start, they soon become hilarious, lovable additions to the group. The humour is a bit wackier, which I love, and the lack of restraints of being on Yahoo instead of television really shows (Especially in running time of episodes). This season really has been fantastic and quirky.

…

Expand

It was an absolute miracle that this show made it to this season alone, after it was cancelled by NBC after season 5. And with the departure

It was an absolute miracle that this show made it to this season alone, after it was cancelled by NBC after season 5. And with the departure of Yvette Nicole Brown, they had lost another central cast member. However the additions of Paget Brewster and Keith David really helped shaped the final season of this amazing show. While the show never recovered from the departures of Chevy Chase and Donald Glover after, and during, season 5, I can finally say that the show went out on a good note. There were still alot of great ideas this season and they didn't rehash too much, beyond another paintball episode. Some running gags weren't in this season and fans of the show will notice them pretty early. And each episode was about 3-4 mins longer, and you'd be surprised to see how much that really changes the flow of things. Some for the good and some for the bad. But, if the show had ended after Season 4 or 5, I would have been fairly disappointed. However with this final season, the show sorta redeemed itself for those dreadful seasons. It never reached the heights of season 2 but very few, if any, shows have ever reached that point. It was a good send off for the gang and they were so close to their "6 Seasons and a Movie" line that was repeated quite a bit in the previous seasons. I know it was a miracle that this season ended up happening at all but, if somehow this show were to ever get a movie, that could somehow bring back Troy and Pierce in some form or another, it would be absolutely amazing. I give Dan Harmon a ton of credit for coming back to the show after he was dumped unceremoniously after Season 4 to come back and put out the fires that the new stand ins had created and he somewhat succeeded, even with the loss of two of the more notable characters on the show. To then bring the show to the internet, after it had been cancelled by NBC was something even larger than that. I fully recommend everyone to watch Seasons 1-3 of this show, skipping seasons 4 and the last half of 5 after Troy leaves, then going to this one. You'll have a general idea of who left but, in the end, its the experience of the show that matters, and just the genius ideas the show had all this time. You will not be disappointed

…

Expand

There is no doubt that all the cast departures are felt during the thirteen episodes on offer here (that table just seems so empty) but

There is no doubt that all the cast departures are felt during the thirteen episodes on offer here (that table just seems so empty) but Community's sixth season still mostly makes for an entertaining watch, just don't expect it to live up to the standards it set in its first few seasons.

…

Expand

Watched the first two and they both felt really flat.

The frisbees on the roof was funny and there were a few good jokes but it feels aWatched the first two and they both felt really flat.

The frisbees on the roof was funny and there were a few good jokes but it feels a little off. Hopefully it will pick up.

…

Expand

I was a big fan. Although the fifth season was already very uneven, season 6 is a bad joke without a punchline, just a slap in the face. The

I was a big fan. Although the fifth season was already very uneven, season 6 is a bad joke without a punchline, just a slap in the face. The season seems mostly to be a commercial with lazy attempts at a storyline and everything the show originally had is all gone Pete Tong. I can only give kudos to the three original cast-members of the group that decided to leave: good for you for having some self-respect. Community should've had a nice, warm & fuzzy but surreal funeral like parks & rec did but instead the fans got a disgusting zombie of what used to be. Waste of film, waste of time. Shame on you.

…

Expand