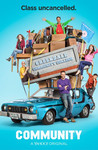 Starring:

Jim Rash

,

Chevy Chase

,

Joel McHale

Summary:

The study group returns to find a new vice dean (John Goodman), and Jeff clashes with the new biology professor (Michael K. Williams).

Genre(s):

Comedy
Creator:

Dan Harmon

Season 3 premiere date:

Sep 22, 2011

Episode Length:

30
Please enter your birth date to watch this video:
You are not allowed to view this material at this time.
Normal is overrated. Give me whimsy, dreams and Evil Troy and Evil Abed any day. Give me extraordinary. Give me Community.

Community is at its most watchable not when it's tackling some real-world hot-button issue via the guise of a Greendale Community College campus event, but when it's examining the interactions of its main characters.

We never know how fully such a mix might develop, and in this episode, it seemed undercooked by the end.
The second season was epic, but this season was even better! I loved everything, also all the characters! Even Pierce. Episodes like Remedial

The second season was epic, but this season was even better! I loved everything, also all the characters! Even Pierce. Episodes like Remedial Chaos Theory or Pillows and Blankets were one of the examples. A thing, I loved the "weird" episodes of last season (like Abed's Uncontrollable, Cooperative's exc.), but this season haven't got so many, but it's still funny. However, I love this show. #sixseasonsandamovie

…

Expand

Consistently smart and funny, probably the best show on television. In a world where Kim Kardashian counts as entertainment, we need as many

Consistently smart and funny, probably the best show on television. In a world where Kim Kardashian counts as entertainment, we need as many shows like this as possible.

…

Expand

Season 3 of Community did a great job of building on the success of season 2 and, having developed its cult status by this point, displayed

Season 3 of Community did a great job of building on the success of season 2 and, having developed its cult status by this point, displayed the same brilliance and witty humor from the last season. While not as good as season 2, it came very close to delivering quite a few things that would remain consistent for future seasons, including Inspector Spacetime and the Evilist universe. This would be the last season with the full cast + Dan Harmon and it definitely shows. Some would say this was the beginning of the end, with Harmon leaving for Season 4, and with Chevy Chase and Donald Glover leaving the season after, so it's very nice to see what kind of creative ideas came about because of this season. While not the peak of the series, Season 3 left such a great impression on me that I definitely recommend everyone watch it, if only to see how great T.V. can be with the right cast and series producer.

…

Expand

The most astoundingnly, clever comedy to grace the small screen since Friends and Seinfeld. God, this comedy series just can't be described in

The most astoundingnly, clever comedy to grace the small screen since Friends and Seinfeld. God, this comedy series just can't be described in words. You have to watch it imo, if you aren't you're really missing out.

…

Expand

Community starts its third season off with the same brilliance it displayed before, remaining the most ambitious comedy at the moment as it

Community starts its third season off with the same brilliance it displayed before, remaining the most ambitious comedy at the moment as it dares to push the boundaries like none other. Jokes that work on various levels as well as the attention to detail in every episode make this my favourite comedy at the moment.

…

Expand

Community continues to keep its stride while creating clever and creative concepts. The best being their thematic episodes and takes on

Community continues to keep its stride while creating clever and creative concepts. The best being their thematic episodes and takes on popular culture such as the TV shows "GLEE" and "Law and Order" as well touching on gay rights and my favourite episode shown mostly as an 8-bit videogame.

…

Expand

OK, well the first season I thought I liked the show, had some interesting twists. But as the second season came along, and now this

OK, well the first season I thought I liked the show, had some interesting twists. But as the second season came along, and now this one...it's just getting weirder and weirder. I just don't enjoy the show any more.

…

Expand