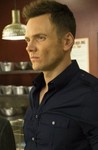 Summary:

Creator Dan Harmon returns as showrunner to helm the fifth season of the comedy, replacing season four executive producers Moses Port and David Guarascio.

Genre(s):

Comedy
Show Type:

In Season

Season 5 premiere date:

Jan 2, 2014

Episode Length:

30

Air Time:

08:00 PM
About as good a Community restart as anyone could have possible hoped for.

If this strong start is anything to go by, the show is going to produce an interesting, challenging, and hilarious batch of episodes for its fifth season. That's reason enough to rejoice for now.

The second episode in particular has touchstones of what made the show so great under Harmon.

In the three episodes sent to critics in advance, Community sounds like itself again.

Whether riffing on the show's past, unruly present ("re-piloting" as an act of reinvention) or unpredictable future, Abed is always hilariously self-aware of the TV and sitcom clichés Community excels in upending.

While it's too early to tell for sure, Harmon does seem to have brought back some of the show's earlier spirit. What he's not doing is making an overt bid for any new, broader audience.
I have seen the first three episodes of Season 5, and I can say, with utmost sincerity, that "Community" has regained the glory and hilarity

it had once lost. Season 4 was just "good" and nothing else. The new season is reminiscent of the genius of the first two seasons. Welcome back Dan Harmon, Chris McKenna and John Oliver! Hello, Jonathan Banks!

…

Expand

Community is back and better than ever! Hope to see this continue throughout the season! Dan Harmon's return is nothing short of magnificent

and the first two episodes really were a delight. Very quotable

…

Expand

This season isn't even half over, and I already know it's the best. It brings back the legendary Dan Harmon and he comes back in guns blazing.

Every episode so far as been hilarious, even the hard hitting emotional departure of Donald Glover was witty and well written. Community hasn't been this perfect off the bat since season 1 and I don't see how it can go wrong from here. I hope the rest of the season holds up as so far the best season of Community.

…

Expand

Despite barely escaping cancellation and what many considered a relatively mediocre season without creator Dan Harmon at the helm, season 5

comes out swinging. The writing is solid and sets up an interesting season, but what's best here is that the original charm is back. If the rest of the season continues in this direction, the show will be able to greatly expand its viewership, and its small but rabid original fanbase will love it more than ever.

…

Expand

I think it is safe to say Community is without a doubt back in action. Harmon's presence is noticed here with the great writing that Community

has always been known for. Awesome to see Jonathan Banks join the cast for the time being. Can't wait for the rest of the season!

…

Expand

Only two episodes in and it is already the best season since season one. The writing is top notch again and marks a great return to form for the show.