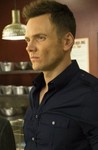 Starring:

Jim Rash, Chevy Chase, Joel McHale

Summary:

Jeff Winger (Joel McHale) is a lawyer who must attend community college after it is discovered he lied about where his law degree was from.

Genre(s):

Comedy
Creator:

Dan Harmon

Show Type:

Ended

Season 1 premiere date:

Sep 17, 2009

Episode Length:

30

Air Time:

08:00 PM
Community can be fresh, funny, smart and extremely aware of its own cleverness; it also can be terrifically odd--odd good, or odd bad, or sometimes odd-good-bad-strange all at once.

McHale gets to flirt and insult to his heart's content, and he's impishly believable in both modes. The supporting cast members manage to make each of their sad little lives amusing, so what could have been a downer of a show is often absurdly funny.

Ken Jeong plays the Spanish professor, Mr. Chang, the kind of quiet joke in the topsy-turvy world that characterizes this sweetly funny show.

If creator/writer Dan Harmon earns only a "C" for the framework of his show, he gets higher grades for its brisk pace and clever writing. And some extra credit is in order for casting, as well.

Community is mercilessly snarky and also surprisingly charming, which is not easy to pull off.

It's not as funny as "30 Rock" nor as distinctive as "The Office," but it's a clear improvement on the seemingly unsalvageable "Parks & Recreation."

Community's party animals tend to get their kicks less from bongs, grain-alcohol projectile vomiting and peeping into sorority windows than from irregular Spanish verbs and lengthy recitations of the script of The Breakfast Club, which, for the most part, is even less amusing than it sounds.
The best comedy on television. Watch it!

I am so glad this show is on TV. It is one of the most well writting series I have ever watched and the characters are amazing. I urge you to

watch this show!

…

Expand

Best comedy currently on NBC. As good as Arrested Development and Modern Family. This show puts Big Bang Theory to shame.

The best part of a new show is when you truly enjoy every bit of it. Community is this fresh new take on meta humor and great writing that

gives this show a whole new following with its brilliant cast and crew.

…

Expand

I like it. It's different, and witty. It's nice to see something that doesn't seem to just be recycled from other past shows.