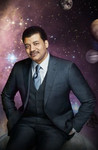 Summary:

Based on Carl Sagan's original Cosmos series, astrophysicist Neil deGrasse Tyson hosts this new version executive produced by Ann Druyan, Steven Soter, and Seth MacFarlane.

Genre(s):

Documentary

,

Science

,

Educational
Show Type:

Between Seasons

Season 1 premiere date:

Mar 9, 2014

Episode Length:

60

Air Time:

09:00 PM
It's educational, kid-oriented and fun, and Tyson us confidently smooth popularizer of science. [17 Mar 2014]

At least the first episode of the new Cosmos is terrific. And if the other 12 episodes are as good, the series will serve as a valuable continuation of Sagan's legacy.

It's a show that stands entirely on its own while never forgetting the series that inspired it.

It's all done with brilliant imagery and crisp production that differs from Sagan's primarily because the technology just keeps getting better.

The premiere episode nimbly balances information with visual spectacle, forging a middle ground between sci-fi and science fact.

The reboot, with only Episode 1 to go by, looks like a noble, educational and decidedly visual effort that can only be enhanced by the HD crystal clarity that Sagan never had a chance to behold.

Where Sagan's narrative often approached poetry, Dr. Tyson's can sound like an overwrought, overamplified planetarium show.... The animation used to present his story resembles low-budget anime and isn't terribly absorbing. Bruno deserves better. Nit-picking aside, if the new Cosmos doesn't deliver quite the punch of the original, it's because this isn't 1980.
As a huge fan of the original series, I'm happy to let you know the pilot continued the legacy of the great Carl Sagan behind the very

respectable Neil DeGrasse Tyson with great overview and some eye candy visuals. I expect that the science will get more detailed once it focuses on more succinct subjects but so far it was an absolute joy for the anticipation!!

…

Expand

This show is just amazing. The animation for this show is incredible and is out of this world (ha get it). Seriously though the show makes

science very interesting. I have always liked science and have been fascinated it and this show will attract those who deep interests in science and those who are newcomers to it. I always make sure that I am in front of the tv watching this every Sunday night and hope that they could somehow turn this into a series.

…

Expand

"The World Set Free"—As the series progresses, Cosmos keeps getting better. Unfortunately, Episode 1 was probably the weakest episode. Cosmos

is at its best when it remains in the area for which it was intended, that is, the cosmos itself. Previous episodes have explored not so much the universe as the history of science, with one episode dedicated to Michael Faraday, who invented the first electric motor and laid the foundation for most of the appliances and devices we use today. Another episode was dedicated to telling the story of Clair Patterson, who understood the dangers of lead poisoning and helped to bring an end to the use of leaded gasoline. The animated graphics that were a bit distracting in Episode 1 have improved and are used less often, the narratives are better, and the intolerance and mild hostility of the atheist agenda have thankfully been dropped from the program.

The best episode so far takes us back into outer space where we belong, and gives us a visit to Venus and a clear explanation for the science behind climate change and global warming. Tyson gives fair footage to the climate deniers as he proceeds to dismiss their favorite theories. No, it's not the volcanoes that are blowing all that CO2 into the atmosphere; they contribute barely 2%. Nor is it the sun, which has remained stable throughout the history of civilization. The climate deniers like to gleefully point out that meteorologists cannot even accurately predict the weather. That's irrelevant, Tyson explains with resigned patience and wisdom. The weather is a short-term prediction with factors that can intercede at the last moment and change the forecast. The climate is the long-term collection of data that shows trends that cannot be discounted or ignored. And if weather data only started being collected in the late 1800's, the history of the planet's climate is to be accurately assessed from geological evidence such as analysis of sediment layers and records of past sea levels, among many other sources of geological data.

Tyson then shows us the history of climate change on Venus. Evidence suggests that Venus should have been Earth's twin planet, somewhat warmer but not the hellish fireball that it has become. Venus may have had an ocean that got boiled away by the early sun and caused what is known as a "runaway greenhouse effect." Although it was brought about by natural causes, it serves as a stark warning for Earth as we continue to pump billions of tons of CO2 into the atmosphere with our fossil fuels. Tyson ends the program with hope for new technologies—wind turbines (especially offshore where they take up no space and cause no inconvenience for homeowners) and solar energy, already discovered in the late 1700's with hope for development in Egypt by Frank Shuman in the nineteenth century, but quickly usurped by the availability of cheap coal and oil.

A few flashbacks to the theories of Carl Sagan were better integrated into the program than previously, segments which are obviously dear to the executive producer, Ann Druyan, Sagan's widow.

…

Expand

Cosmos is one of my favorite shows. I'm so glad that there are still great tv shows out there. Neil DeGrasse Tyson is great and I recommend

you watch this show if you haven't already!

…

Expand

Very beautiful and informative. Every episode explained as much as it could with about 42 minutes allocated to it. It cleared up some

misconceptions I'd been taught as a child. Growing up in a religious household can be very limiting. I love how the show seems to be geared more toward younger audiences, like those in high school who could get a great deal of information and actually understand it. I usually prefer things to be a little less animated, but if it helps people get interested, I'm all for it.

…

Expand

This is a great disappointment from the original. With wooden animation instead of live actors, eighteen minutes of commercials, absolutely

uninspiring music (listen to the original Vangeles soaring theme if you want to be inspired), and the big Fuzzy Door logo jumping in at the end as if they ran out of time and to remind us that Family Guy and America Dad were just part of the show. I'm expecting Stewie to show up with his time machine to take us back to the big bang in one of these episodes. The original Cosmos was the most incredible and awe inspiring tv show I had ever seen. I'm afraid this one is a disappointment.

…

Collapse

science? haha no

#fail

Unfortunately this horrifically poor show has ended with cancelation albeit not swiftly enough according to

justice. This was a huge time waste with no redeeming value.

…

Expand