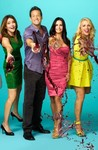 Season 4 premiere date:

Jan 8, 2013

Episode Length:

30
Despite cable's relaxed standards for nudity and swearing, as well as the addition of new showrunner Ric Swartzlander ("Gary Unmarried"), Cougar Town still feels like the same old show--a very good show at that.

The writing is still crisp, and Busy Philipps' Laurie remains the standout.

Cougar Town is as unrepentantly shallow and silly as ever.

An eclectic comedy that is smarter than mainstream fare like "Last Man Standing" but still feels like comfort food.

This Cougar Town vintage may be a bit brasher and brighter, but never fear: It's still quite potent and drinkable.

Bereft of better scripts, the cast goes through the motions, half-hearted and cheerfully dazed.