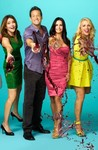 Creator:

Bill Lawrence, Kevin Biegel

Show Type:

Between Seasons

Season 1 premiere date:

Sep 23, 2009

Episode Length:

30

Air Time:

09:30 PM
This is Cox's best gig since the end of "Friends" and she clearly knows it, attacking the material at full tooth-and-nail.

For all the sex jokes (most of which are amusing), this is at heart a family comedy, with Cox completely winning as a mom trying to make herself happy without making her son miserable. Odds are that other moms can relate.

Despite the title, Cougar Town seems more female centric, which is key to ABC's audience, and it's a little more formulaic than "Modern Family," but both are welcome new sitcoms.

The show demonstrates that none of Cox's ample comic skills have diminished; she still has impeccable timing. But she can be such a brittle presence that she needs to be surrounded by more sympathetic characters, not by friends who are, if anything, more raunchy and manic.

This is a story of desperation, not liberation. Cox is too good for this.

Where "Scrubs'' managed to plumb some truth about medicine and camaraderie Cougar Town is less funny, and sometimes kind of creepy.

Cougar Town (which doesn't debut until Wednesday, but I wanted to give you time to disconnect your TV set) is downright unwatchable, an agonizingly unfunny gutter-ball that will almost certainly be the first of the new season's shows to be canceled.
Excellent mix of visual and verbal humour. Full marks.

While it does take a while to get into (I actually started with season 2, then watched the first season), this cast on this show is wonderful.

The premise is a tad superficial, yet strangely appropriate for the chosen setting. I love the complicated relationships between the characters, and the expected behaviour between others (I'm a sucker for familiarity on shows). Overall, highly entertaining and makes me laugh plenty.

…

Expand

This show is just fantastic. Get over the name people! It doesn't have anything to do with older women banging out young dudes. It is a show

about friendship, family and booze. What else in life is important? Do yourself a favor and invest some time getting to know and appreciate this show. You'll thank me later. JPC

…

Expand

I only caught the pilot, but this show seems more mean spirited than funny. Any show with the talented Courtney Cox is going to have its

moments, but the bitter undercurrents here would be better suited to an hour long drama and not what at times is a broad comedy.

…

Expand

This show is simply to painful to take seriously. A 40 year old woman starving to satisfy her sexual desires with 20 year olds, while at the

same time being a mom isn't a nice plot line. I really hope this gets cancelled soon...for Courtney Cox's sake. She really does herself a disservice in this series.

…

Collapse

This show is so stupid. Just another show about white women obsessing about how they look. This is not cougartown. The whole point is that

she is suppose to be dating younger guys and confident that she is older. Now she is dating this new guy Scott Foley and he is just as old as she is. They obsess about eating and that's why white girls are anorexic today. That episode about don't watch me eat was just ridiculous. Courtney Cox is so bony and frail. She just looks sick. They could have chosen someone else for the lead. Her best friend is also a mess. Anyone with eyes can tell that she injects her face with botox. This whole show is silly but mess like this will stay on the tv for years.

…

Expand

Horrible, unfunny, annoying show!