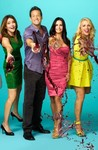 Show Type:

Between Seasons

Season 1 premiere date:

Sep 23, 2009

Episode Length:

30

Air Time:

09:30 PM
This is Cox's best gig since the end of "Friends" and she clearly knows it, attacking the material at full tooth-and-nail.

For all the sex jokes (most of which are amusing), this is at heart a family comedy, with Cox completely winning as a mom trying to make herself happy without making her son miserable. Odds are that other moms can relate.

Despite the title, Cougar Town seems more female centric, which is key to ABC's audience, and it's a little more formulaic than "Modern Family," but both are welcome new sitcoms.

The show demonstrates that none of Cox's ample comic skills have diminished; she still has impeccable timing. But she can be such a brittle presence that she needs to be surrounded by more sympathetic characters, not by friends who are, if anything, more raunchy and manic.

This is a story of desperation, not liberation. Cox is too good for this.

Where "Scrubs'' managed to plumb some truth about medicine and camaraderie Cougar Town is less funny, and sometimes kind of creepy.

Cougar Town (which doesn't debut until Wednesday, but I wanted to give you time to disconnect your TV set) is downright unwatchable, an agonizingly unfunny gutter-ball that will almost certainly be the first of the new season's shows to be canceled.
Bill Lawrence's brand of comedy is the closest you'll get to real-life dialogue between friends. The scenarios, the inside jokes, the laughs,

the tears are all there just as they are in your daily lives. Cougar Town embraces going through life by surround yourself with your closest friends and that's why it's so great. Like Scrubs before it, Bill Lawrence has made another group of TV characters you would want to spend your time with.

…

Expand

At first I thought this was a bit of a chick-flick but after the first ten minutes of the first episodes I really Got into it and started

laughing not being able to stop but yeah i found this very good so that's why i give it the 10 because it does deserve and i understand it's not every ones cup of tea but it's still good to me!

…

Expand

This show is just fantastic. Get over the name people! It doesn't have anything to do with older women banging out young dudes. It is a show

about friendship, family and booze. What else in life is important? Do yourself a favor and invest some time getting to know and appreciate this show. You'll thank me later. JPC

…

Collapse

The show started off as crass and distractingly sexual, but morphed into a wonderful dysfunctional ensemble comedy as the season progressed.

Busy Phillips and Christa Miller are two of the finest supporting comedy actresses on television. And despite the silliness of the show, it has a weird capability of executing really emotional, heartfelt episodes well.

…

Expand

I just don't like it! Loved friends, it's just the women have very annoying personalities. The guys not so bad. I don't think it will go

far. At least I hope not. I have tried several times to watch it. The commercials. Change the brew statement (is that what they are saying). Courtney dresses terrible stripe tees and high heels. They look like dirty women. Please bring back House of Payne and the Browns. Family shows.

…

Expand