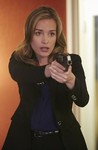 Summary:

Annie Walker (Piper Perabo) is suddenly picked from her CIA training class for her first field assignment.

Genre(s):

Drama

,

Action & Adventure

,

Suspense

Show Type:

In Season

Season 1 premiere date:

Jul 13, 2010

Episode Length:

60

Air Time:

10:00 PM
The pilot rumbles forward on crisp action and light-hearted humor, while hinting at higher stakes that offer room for narrative growth. While easily dismissed as another "Alias" (like Jennifer Garner, Perabo can do wonderful things to a simple skirt and heels), the show also makes clever use of Walker's newbie status.

Covert Affairs is fun and clever and Ms. Perabo has panache in the role.

With Covert Affairs, USA has added another slick and likable drama to its summer lineup.

Pretty much every character and character trait will be old-hat to regular TV viewers but director Tim Matheson makes the pilot episode hang together pretty well.

The series is fun, slick and fast, but cheesier than it needs to be.

Perabo shows herself capable of playing Walker tough or sweet, clueless or competent. Unfortunately, in the span of a single episode, she's asked to do all of the above.

What it does have is a sleek but shallow cast that cannot lend any weight to the lighter-than-air writing.
Although unrealistic to the typical day at the CIA, the characters are easy to relate with and very entertaining. Christopher Gorham's

depiction of a blind CIA agent makes you love him even more and the witty comments swapped between characters leave a smile on your face. All in all, a great show, that is perfect for a summer drama series. Hopefully it sticks around for a long time.

…

Expand

This is a nice show, I am not a fan of the main character and her sister. Probably baggage from House, but nonetheless not my interest in

this show as I fast forward through her scenes. I partake in the events and the missions, though definitely not the Bourne Trilogies, it does keep my interest. It definitely is a nice substitute while I wait for Burn Notice as this show is not even close, but does try to resemble it. Not enough drama for me to care about the characters, meaning if one died in the show, I do not think it would matter to me at all.

…

Expand

Oh, what will Annie do next? She'll most likely break some sort of CIA protocol while ignoring an order and still manage to save the day with

the help of her blind friend. Oh, yeah, and don't forget about Ben, the rogue agent, who is nothing like Annie. He'll pop up with another dilemma that forces Annie to choose her trusted CIA or the man who she has spent three weeks with. Hmmm. What will she do? I think we already know.

…

Expand

Neither a super-spy fantasy like "La Femme Nikita" nor a serious analytical affair like "Rubicon", "Covert Affairs" plays like "Moonlighting:

Langley". This domestic (?) part of the CIA employs only extremely good-looking people who solve huge threats to the national security which conveniently gather in a 50 mile circle around (a badly made CGI wide shot of) their headquarters so that they still have the time to go for a drink with their colleagues and lie to their families about what they do. Fortunately, the always adorable Piper Perabo offsets the annoying male models around her. Less fun than the first season of "Burn Notice", but watchable if you like your spy stories light, fluffy and forgettable.

…

Expand