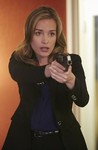 Please enter your birth date to watch this video:
You are not allowed to view this material at this time.
Annie Walker tackles a new case--but it feels like a distraction as the Ben mystery continues. [3/10 Jun 2011, p.109]

[The premiere is] another well-told story that gives us a bit more insight into the pair while the season's two interconnected running story lines spool out behind them.

Don't try too hard to make sense of it: Covert Affairs is simply--and simple--fun.

In season 2 this fluffy spy caper about gorgeous CIA operative Annie Walker is starting to deliver on the seductive fun promised by Piper Perabo's sly, flirtatious smile in the opening credits. [25 Jul 2011, p.40]

There's no there there. Annie's missions each week are forgettable, and most seem to revolve around Annie seeming to get too personally invested, only for her instincts to be proven right over her more jaded colleagues.

Everything about Covert Affairs feels bland and generic: Annie herself (Perabo is efficient but charisma-free), her missions (this week's assignment is completely predictable), her relationship with her sister (the wonderful Anne Dudek, wasted in a marginal role), and especially her relationship with her boyfriend, another CIA operative.
Excellent show; one of my favorite ones, in addition to White Collar, Burn Notice & Suits. The set up is the exploits of a young female CIA

Excellent show; one of my favorite ones, in addition to White Collar, Burn Notice & Suits. The set up is the exploits of a young female CIA recruit, who does her job very well; going on different missions all over the world. What makes the show work are the character relationships; especially with the main character and Augie - her blind handler. The characters are very likable, and there is an ongoing plot line that continues in each episode; sprinkled with humor. Don't miss out on this season & if you haven't seen the other season, make sure you rent it...you won't be disappointed. :)

…

Expand

The second season of Covert Affairs definitely manages to improve on the first, with the entertainment value ratcheting up and the stakes

The second season of Covert Affairs definitely manages to improve on the first, with the entertainment value ratcheting up and the stakes growing just a little bit higher.

…

Expand

This second season is as good if not superior to the first one. The episodes were more interesting and the acting was even better. Let's hope

This second season is as good if not superior to the first one. The episodes were more interesting and the acting was even better. Let's hope that season 3 will not disappoint.

…

Expand

Simple fluffy escapism. Likeable characters and basic plot lines. There's nothing even close to ground breaking, just fun to watch. Piper

Simple fluffy escapism. Likeable characters and basic plot lines. There's nothing even close to ground breaking, just fun to watch. Piper Perabo plays the lead as a young, intelligent, naive, and pretty new CIA agent well. Good to see Christopher Gorm too.

…

Expand