Network:

VH1

Series Premiere Date:

Oct 21, 2013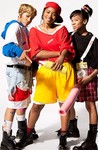 Summary:

The story of the highs and lows of the Atlanta R&B trio of Tionne "T-Boz" Watkins (Drew Sidora), Lisa "Left Eye" Lopez (Niatia "Lil Mama" Kirkland), and Rozonda "Chilli" Thomas (KeKe Palmer) was produced by the two surviving members of TLC.

Genre(s):

Drama

,

Movie/Mini-Series

,

Music
Show Type:

TV Movie

Season 1 premiere date:

Oct 21, 2013
The movie deals with Lisa's death tastefully and sincerely, and the three actresses who play the girls couldn't be better. They have the trio's finger-snapping repartee and sisterly rapport down. If the script clunks, and the direction of Charles Stone III lacks the slightest in subtlety or grace, those qualities aren't what matters. The cray-cray back story is.

This surprisingly competent TV movie rehashes the highs ("Waterfalls") and lows (Left Eye burning down her boyfriend's house).

CrazySexyCool doesn't bring anything fresh to the narrative.... Still, the story and central players are intriguing enough that the combination of music and melodrama pretty well speaks for itself, without requiring much embellishment.

CrazySexyCool is a not a particularly well-constructed biopic, hopping from moment to moment like moviemaking was just a matter of checking scenes off a list, but it does everything that Tionne "T-Boz" Watkins and Rozonda "Chilli" Thomas, the two surviving members of TLC, could ask for: It will absolutely convince you that TLC was amazing.

As the film swerves from one speed bump to the next, it takes TLC's success and acclaim largely for granted, a clear violation of the "Behind the Music" blueprint. Often, the actresses do little more than appear on screen to deliver the heavy-handed, exposition-thick dialogue by Kate Lanier.

It makes for a pretty boring, hokey biopic. Anyone other than fawning superfans should just watch those Behind The Musicsinstead.
Love the movie, a classic. Lil Mama did so well portraing Left Eye. Keke and Drew did a good job too, love the work, thank you VH1. TLC is now

Love the movie, a classic. Lil Mama did so well portraing Left Eye. Keke and Drew did a good job too, love the work, thank you VH1. TLC is now on history.

…

Collapse

Love the movie, a classic. Lil Mama did so well portraing Left Eye. Keke and Drew did a good job too, love the work, thank you VH1. TLC is now

Love the movie, a classic. Lil Mama did so well portraing Left Eye. Keke and Drew did a good job too, love the work, thank you VH1. TLC is now on history.

…

Expand