Network:

NBC

Series Premiere Date:

Mar 16, 2014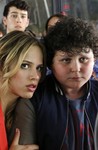 Starring:

Gillian Anderson

,

Dermot Mulroney

,

Michael Beach

Summary:

When a school bus of students from Ballard High is taken a national crisis is created as one of the students is the niece of an FBI agent and another is the son of the president.

Genre(s):

Drama

,

Action & Adventure
Please enter your birth date to watch this video:
You are not allowed to view this material at this time.
Crisis ultimately gets its priorities straight by giving viewers a reason to care--about the characters, outcome and mystery.

The pilot is terrific, and it was directed by Phillip Noyce, whose credits include the Harrison Ford movie "Clear and Present Danger" and the pilot of ABC's "Revenge."

With its frantic pacing, ­vicious masterminds and ­valiant law enforcement agents, Crisis might remind you of Fox's "24." Not the best seasons of "24," but still. There's a lot to be said for a show that works up a sweat trying to surprise you.

The mood music in Crisis can be over-wrought at times--and downright over-bearing when a male vocalist breaks into "Sometimes I Feel Like a Motherless Child." But the first two hours are nicely paced and eventful, with the ad hoc partnership between Marcus and an initially resistant Susie gaining traction as the stakes increase.

It's gloriously stupid, but not always aware that's what it's doing, which leaves it in a messy middle ground--too bad to be good, too good to be bad.

The show does a good job of setting up a lot of conflict in a very short time, but I'd be more invested if I got to know the characters more — and if they had more dimension..... It felt too contrived.

You don't have to take Crisis too seriously; it will happily do that for you, spreading its pompous misery evenly among a cast large enough to fill at least three or four mediocre TV shows, if you count all the teenagers.
I have to say the 2 hour ending was amazing!! It made me want to see so much more. Especially with sending that last text. I wanna know what

I have to say the 2 hour ending was amazing!! It made me want to see so much more. Especially with sending that last text. I wanna know what it is!! and What it leads too. C'mon Season 2!! PLEASE!

…

Expand

10/10 This is a very high quality TV series and has a lot of content that can be added to it. Despite some critics arguing that it will be

10/10 This is a very high quality TV series and has a lot of content that can be added to it. Despite some critics arguing that it will be impossible to make it multi-season. In my opinion all the script writers have to do is create a new plot each season. Season 1 will be about the hostage crisis and Season 2 could be something else inter-related. I REALLY enjoyed watching the Pilot and enjoyed how different it was from cheesy TV series such has NCIS and action- packed but otherwise lacking Hawaii Five 0. This is the ultimate police police mystery drama being played today. Others include another NBC start up series Chicago P.D. but I find Chicago P.D. heavily lacking in plot. It seems like the plot is never going to be advanced because of how seemly unrelated each episode is. Crisis is an awesome and mind blowing TV series that SHOULD be renewed for a second season.

…

Expand

In the beginning, the show didn't have much to distinguish itself from other TV shows with similar premises. The pilot episode wasn't too

In the beginning, the show didn't have much to distinguish itself from other TV shows with similar premises. The pilot episode wasn't too original (a school bus is hijacked and the students kidnapped/held hostage), and the shows name is forgettable (another TV show with a one-word name).

By episode 9 though, Crisis had really improved. The pilot was OK, but the later episodes were really great (especially episode 8). This show is really great, entertaining, and enjoyable. The cast have been put through challenges; decisions, moral dilemmas, and crisis's (get my pun?). All of these have made the cast more relatable and interesting characters. Once one-dimensional characters have been fleshed out well. The teenagers, Agent Finley and Dunn, Gibson and his crew, the CIA, FBI, Secret Service, the parents—the whole cast, for the most part were good. Agent Finley and Dunn were especially good. The scale and impact of all the events have made this show more global in scale. Everything came together and wrapped up in the last episodes. I recommend this show. There were some plotholes and some mistakes, but that can be forgiven.

Some feel the first few episodes were good. Most of the critics feel this way too, which surprises me because I feel that the first few episodes were OK. Nothing special. Later, the plot got better and it was clear that this was more than just a kidnapping.

Unfortunately, on May 9th Crisis was canceled. However, on May 25th the 9th episode aired. The last few episodes aired and thankfully it gave me closure.

Crisis aired with low ratings. I guess that was because it's on Sunday. On Sunday, there's a lot of completion. Why did they have to air it on a Sunday, with so much competition to face? If it had been on another day, it would've done better. Also, I think too many people gave up on this show because based on the first episode they thought it wasn't unique enough and too generic. (Oh no! Kids get kidnapped, now what? They get saved and bad guys lose. The end!) NBC should re-launch the show later, and maybe gain a wider audience during the summer.

The premise, "How far would you be willing to go for your child?" sounded promising and the potential was certainly there. The potential was certainly been used. The villain is more complex than most, and the cast is good. Some of the dialogue in earlier episodes was cheesy, but that has improved. The show wasn't special at first, or really really great, but it could kill an hour of time so I was fine with it. Now, the show is truly entertaining in my opinion.

I just wish there could be a season two. Maybe with a new "Crisis"—a terrorist attack, with Finley and Dunn there? I'd love to see that!

If you liked this review, read my other ones on movies, TV shows, and videogames. I have reviewed Edge of Tomorrow, X-Men Days of Future Past, Godzilla, Blended, The Amazing Spider-Man 2, Jack Ryan: Shadow Recruit, The Lego Movie, and more. I am actually still trying to find time for other film reviews. I have also reviewed the TV shows Sleepy Hollow, Marvel's Agents of SHIELD, The 100, I Wanna Marry Harry, Crisis, and more.

Goodbye! AG732

…

Expand

This show was pretty good, but I think about halfway through the show started to go in a direction that lost some of it's viewers. In the

This show was pretty good, but I think about halfway through the show started to go in a direction that lost some of it's viewers. In the beginning it was awesome because the guy was always one step ahead and knew what they were planning. Then after awhile it kind of tapered off so I think that's when the show started to go downhill. It's still a overall good TV show, but nothing fantastic.

…

Expand

I really don't see how the show 'Crisis' is going to translate into a multi season vehicle for NBC. The premise has already failed multiple

I really don't see how the show 'Crisis' is going to translate into a multi season vehicle for NBC. The premise has already failed multiple times in past years. The only thing that makes this different -- this time the hostages are kids. Think 80's, think 'Toy Soldiers' and you got it. Kids trapped in a building and someone is trying to get them out. Wow, wonder how this will end? Umm they get saved? The pilot ended with me having no hint of a connection to the characters. I don't even feel the kids are in any real danger. There were attempts to have contrived "moments" that would make me care, didn't work, I don't. The dialogue seems better fitted for a student film or B movie. One line zingers, minus the zing and the typical CSI styled fill in the blank commentary that accompanies most action/dramas that are on air today. Lance Gross tried his best to channel his inner John Mcclane but I'd rather just watch Die Hard on blue ray. As hard as it is to get a break in the industry today, this project made it to my screen? Just wow! Either NBC is saying they just don't care, or some of the higher ups in those nice comfy offices need to play musical chairs...because this show really sucks. Don't get too excited about the initial ratings, they will drop off significantly if what you aired tonight is all you have in store. 'Crisis' gets two thumbs down and a series cancel on my DVR.

…

Expand

This review contains spoilers, click expand to view.

I wanted to like this show, and enjoyed the 1st episode. But it races straight downhill from there, with more stumbles than the Sochi giant slalom. The show combines the worst elements of a number of better shows like 24, Person of Interest, etc., minus the more knowing, tongue-in-cheek over-the-top'ness of such series. Wow, the villains have an all-powerful computer system set up somewhere magically untraceable that can hack every gov't system instantly, and tap into the White House phone system at will. A sequence of high-powered parents will do the bidding without hesitation of the voice on the phone without any of them even considering trying to clue in law enforcement. The general reveals the true whereabouts of a secret video by phone, even though the kidnapper would have no way of confirming if he'd lied. The FBI & Secret Service together don't think to round up or tail all of the parents, even after 4 of them have received calls and done the kidnappers' bidding. It rapidly gets cringe-inducingly stupid. Three episodes was two too many to bother with already, I'm done.

…

Expand

Where to begin. I just had the misfortune of sitting through a second episode of this nonsense and it will be the last. It is ridiculous,

Where to begin. I just had the misfortune of sitting through a second episode of this nonsense and it will be the last. It is ridiculous, every scene has some glaring aspect that makes no sense and would never happen in the real world. Throw is some terrible overacting and a story that will drag on for months with im guessing no pay off and you have one of the worst new shows in living memory, staring into space would be more productive than this. Avoid

…

Expand