Network:

CBS

Series Premiere Date:

Oct 6, 2000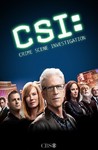 Starring:

William Petersen

,

Marg Helgenberger

,

George Eads

Summary:

Gil Grissom is ready to move on as season nine of the long runing series introduces Dr. Raymond Langston (Laurence Fishburne) to the Las Vegas crew.

Genre(s):

Drama

,

Suspense
Please enter your birth date to watch this video:
You are not allowed to view this material at this time.
Csi: Crime Scene Investigation
CSI is not looking for a facsimile, so fans can rest assured that Fishburne will evolve into a unique and valued lead on his own.

I'll miss Grissom, but welcome Langston's brusque authority: lotsa possibilities for friction with the prickly CSI crew.

If you were worried about your favorite show's favorite character's replacement, rest assured that Fishburne's Langston is different enough to walk easily in Grissom's paper lab shoes.

While toying with chemistry is always dicey--especially when somebody as prominent as Grissom is involved--the storytelling remains the star, a fact neatly underscored by the casual nature the Petersen-Fishburne baton pass plays at least within this fast-paced hour.

Fishburne doesn't show up until halfway through the episode and mostly stays in the background once he does, letting the intellectual chess match between Grissom and DJK be the focus. And that feels right.

The particulars of the transition involve the usual melodrama, as each regular cast member has a chance to express his or her feelings about Grissom's departure, however pissy or mundane.

Fishburne, however, has done some terrific acting, and Langston is a character who's strong enough (though a nontraditional one for police shows) to firmly take Grissom's place at the table. Just in a different seat.
I am a die hard obsessed CSI fan. Despite the emotional kill offs (Speedle, Alex, Warrick, Sarah, all the many secondary charcters...and now

I am a die hard obsessed CSI fan. Despite the emotional kill offs (Speedle, Alex, Warrick, Sarah, all the many secondary charcters...and now Grissom, ) I'm still dedicated but not so captivated as before. Some of the recent new episodes on both MIA and VEGAS have been, well, kind of stale. It's not the same and certainly won't be when Petersen leaves. Fishbourne might be a sharp and accomplished actor, but does he qualify to be Gill Grissoms successor and how will he fit in with the tight knit Vegas crew, whose synergy is the thing that keeps them going.

…

Expand

I really enjoy the new life that Fishburne brought into the show. Grissom was tired and was dragging the show into a parody of itself. So

I really enjoy the new life that Fishburne brought into the show. Grissom was tired and was dragging the show into a parody of itself. So glad that the show has gotten back to the crime as the main focus and not the inter-office love relations.

…

Collapse

I have nothing against Fishburne and im sure the show will still do well... But Grissom leaves? Really? Grissom IS CSI. How would you feel if

I have nothing against Fishburne and im sure the show will still do well... But Grissom leaves? Really? Grissom IS CSI. How would you feel if luke skywalker got killed of at the begining of the second movie? How would you feel if Frodo Died at the start of the 1st movie. How would you feel if Neo was killed off in the first and then everone was like were fked and it ended there. Grissom is CSI and in my opinion the show has ended. I still wish everone luck with the show but i cant watch it anymore....

…

Expand

It's just not the same without Grissom. I think the Fishburne character was worked in very nicely, I'm just not sure they could

It's just not the same without Grissom. I think the Fishburne character was worked in very nicely, I'm just not sure they could ever afford to lose such a central character as he seemed to me to be the anchor of the show. But the fact that his departure so closely followed that of both Sarah's and Warrick's left such a dent in the shows foundation, I doubt it can ever be fixed. A whole new CSI: has been created and in my opinion it falls short of it's predecessor.

…

Expand

Slickly made superfluous and souless forensic porno,.... and critically-taken seriously (as above) no less... FGS America - grow up. It seems

Slickly made superfluous and souless forensic porno,.... and critically-taken seriously (as above) no less... FGS America - grow up. It seems great cos it is gratuitous and manipulative, but for the rest of intelligent humanity this hold lasts about four episodes... and yet, here you are ons eason one million, lapping it up in continued primetime (and even, disgustingly, taking the show seriously at wards shows... while shows like the soup happily mock its absurdity) slots like other dumb countries do (australia), who rather than live a life worth living, would just be happy aping the USA. Aim higher than the gutter - you might be surprised what the world and real life and emotions are like... it's a good world out there. Forensic porn does not form part of it or its aspirations. Shame on you.

…

Expand