Network:

Starz

Series Premiere Date:

Apr 12, 2013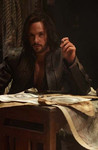 Starring:

Gregg Chillin

,

James Faulkner

,

Laura Haddock

Summary:

Twenty five-year old artist/inventor Leonardo da Vinci (Tom Riley) works for Lorenzo Medici (Elliot Cowan); attracts the attention of Medici's mistress, Lucrezia Donati (Laura Haddock); battles Count Girolamo Riario (Blake Ritson); and seeks the mysterious Book of Leaves in this historical

Twenty five-year old artist/inventor Leonardo da Vinci (Tom Riley) works for Lorenzo Medici (Elliot Cowan); attracts the attention of Medici's mistress, Lucrezia Donati (Laura Haddock); battles Count Girolamo Riario (Blake Ritson); and seeks the mysterious Book of Leaves in this historical fantasy series.

…

Expand

Genre(s):

Drama

,

Fantasy
Creator:

David S. Goyer

Season 1 premiere date:

Apr 12, 2013

Episode Length:

60
Please enter your birth date to watch this video:
You are not allowed to view this material at this time.
Da Vinci's Demons: Verrocchio is concerned that Leonardo is going through an identity crisis
The mystical mumbo jumbo nearly derails the proceedings, but Goyer reins in the hookum in favor of frolicking adventure that's more fun than fact.

We see promise in Tom Riley's Leonardo da Vinci. [12 Apr 2013, p.68]

No one should base a term paper on it, but Da Vinci's Demons is at least an entertaining lie.

To work, this overheated alchemy needs a magnetic Leo, but Tom Riley is miscast--too smart-alecky and brash. [13 May 2013, p.46]

It feels at times like part "Da Vinci Code," part "National Treasure," part "Borgias" and part "Sherlock," all with its own underlying tongue-in-cheek bemusement.

Ultimately, I found Da Vinci's Demons ridiculous but fairly amiable.

Series creator David S. Goyer seems to be going for exuberance; but Da Vinci's Demons is never exuberant enough to overcome a crippling combination of leadenness, silliness, and mediocre storytelling.
I was too excited when I first heard the news that they're releasing Da Vinci's Demons. Honestly though, when I first heard of it, I was

I was too excited when I first heard the news that they're releasing Da Vinci's Demons. Honestly though, when I first heard of it, I was scared that it wouldn't be as successful as I want it to be, considering the fact that it's more of a renaissance series. Based on recent reviews though I have to say that Da Vinci's Demons is getting better reviews. I really liked the show, it has a cunning storyline and the cast is easy to love. It might have some R rated scenes, but honestly, what recent show doesn't. Da Vinci's Demons is an easy to recommend show, and an easy show to give a 10. If you've read some of Dan Brown's work, and loved it, then Da Vinci's Demons could be your new favourite show.

…

Expand

It's not a factual account of Leonardo's life and has never claimed to be, but it's a lot of fun and very refreshing. It takes off rather

It's not a factual account of Leonardo's life and has never claimed to be, but it's a lot of fun and very refreshing. It takes off rather weakly, so bear with the first two episodes. It picks up wonderfully as the plot thickens. Also, amazing performances!

…

Expand

Da Vinci's Demons is so refreshing, its quirky take on a historical great is just so entertaining. The Vlad epsiode is brilliantly scary and

Da Vinci's Demons is so refreshing, its quirky take on a historical great is just so entertaining. The Vlad epsiode is brilliantly scary and Tom Riley's performance is brilliantly charming and manic, and we look forward to each week's instalment and very much hope there will be further seasons to tune into

…

Collapse

So this may not be very historically accurate or have amazing visual effects but it does end up being a decent entertaining show. I wouldnt be

So this may not be very historically accurate or have amazing visual effects but it does end up being a decent entertaining show. I wouldnt be too upset if i missed an episode here and there but if its on and you have time/access to it, it could be pretty entertaining to watch.

…

Expand

There is a lot to like in Season 1 of Da Vinci's Demons. The acting is fine, the production values great and the fun, lots. However, the first

There is a lot to like in Season 1 of Da Vinci's Demons. The acting is fine, the production values great and the fun, lots. However, the first few episodes fail to justify that and a lot of build up and little pay off leaves too much for Season 2.

…

Expand

Ultimately I was disappointed with Demons considering it's creator. When the show was announced I wondered what 'demons' the title was

Ultimately I was disappointed with Demons considering it's creator. When the show was announced I wondered what 'demons' the title was referring to and it's these demons that for me detract from the narrative's stronger elements. The show is strongest when Da Vinci is caught up in the power struggle fought between the Medici's and the Pope through his sly nephew Count Riario.

The 'demons' element weakens Da Vinci and has him fighting a repressed childhood memory while hunting for clues of his mother. He is contacted by the Son's of Mithras, who instruct him to access the Fountain of Memory to find the Vault of Heaven where he will find the Book of Leaves. Seriously, you couldn't make it up. The Book of Leaves will probably be followed by the Turd of Glory.

In terms of historical accuracy the show is tongue in cheek and pretty good fun. For me Da Vinci is a bearded old man, but here is he reinvented as a cool, fast talking, talented sword fighter. I wondered if Goyer would stay true to dialogue of the time but this was answered in the first ten seconds of the opening episode when Hugh Bonneville, in a cameo as the Duke of Milan, responds 'Balls!' to be told he was late! Tom Riley is charismatic as Leonardo and is well supported by Elliot Cowan as Lorenzo de Medici and Blake Ritson as Count Riario.

The production is glossy and features some decent CGI used to illustrate Da Vinci's brain at work as he plots and develops his inventions.

The finale was disappointing finishing not just following a cliffhanger but midway through one which I found incredibly unsatisfying. At only eight episodes, the season was the perfect length, short and punchy and the show has been renewed for another round in 2014.

…

Expand

Come on, seriously? I've watched three episodes of this and i don't even know how and why. Maybe the show can be good if you want to laugh

Come on, seriously? I've watched three episodes of this and i don't even know how and why. Maybe the show can be good if you want to laugh at...at...just everything you see in the show. But if i want to laugh i'd just go with some comedies like louis c.k, parks and recreation, arrested development and so on. Usually i don't want to laugh watching something that is supposed to be a drama.

Also, i find that the da vinci's actor it was just bad and without an inch of charisma.

…

Expand