Network:

FOX

Series Premiere Date:

Sep 17, 2013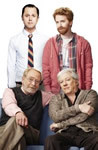 Starring:

Seth Green

,

Martin Mull

,

Giovanni Ribisi

Summary:

In this live-action comedy from producer Seth MacFarlane and his Ted co-writers (Alec Sulkin and Wellesley Wild), the lives of video game company co-founders Eli and Warner (Seth Green and Giovanni Ribisi) are turned upside down when their fathers (Peter Riegert, Martin Mull) move in with them.

Genre(s):

Comedy
Please enter your birth date to watch this video:
You are not allowed to view this material at this time.
Yes, offensive, but the second episode loses that element, which suggests Fox got the message. Not surprisingly, it's the better of the two.

Dads just isn't very funny. A cast this good--Martin Mull and Peter Riegert are loser fathers to business partners played by Giovanni Ribisi and Philly's Seth Green--deserves more than the raucous studio laughter that warmed-over bigotry generates. And, honestly, there are glimpses at times of a better show.

If the two whiny sons and their equally unlikable fathers aren't enough to push you away, the boorish childishness of the show's obvious efforts to offend should do the trick.

Friends Warner (Giovanni Ribisi) and Eli (Seth Green) have clueless dads (Martin Mull and Peter Riegert) who might be racist, or maybe it's just the show. [20/27 Sep 2013, p.141]

What's galling is the utter absence of originality, spirit or even new jokes. ... The poor actors look like they're serving mandatory sentences for the creators' crimes of laziness.

A crass generation-gap sitcom with the wit if not the intelligence of an elementary-school flatulence contest.

Creatively speaking, Dads comes off as if it were a much-resented homework assignment for all involved.
This show is amazingly funny and perhaps funny for a smaller audience. I think people who dislike the show have issues seeing a show where

This show is amazingly funny and perhaps funny for a smaller audience. I think people who dislike the show have issues seeing a show where there are 2 successful male in their 30s. The show is funny and healthy for many males to see a different aspect to comedy around male figures. Much better then everybody loves raymond and kings of queens which both makes men look like complete idiots. So this show is better written and planned to make a better attempt to make a comedy around two succesfull male characters rathern then making stupid fart, drinking and idiot jokes about men.

…

Expand

This is a fun show that is not for kids or easily offended adults. The shows don't end with a major problem solved or a life lesson that you

This is a fun show that is not for kids or easily offended adults. The shows don't end with a major problem solved or a life lesson that you are supposed to learn from the story. It is just meant to give you some laughs at characters that remind you of people you know in your life. I find it funnier that "critics" are bombing this show with their reviews. Hank Stuever who writes for the Washington Post tanked this show in his review. If you find this show offensive or crude then don't read The Washington Post. I almost bought a bird just so I could put The Post at the bottom of the cage for the bird to crap on. Hopefully the bird would have good aim and give Ole Hank's reviews the reception they deserve. Looking at that guy you would think he would be a tv critic I would imagine he doesn't have much else going on other than TV. Glen Garcin from the Miami Herald blew it out of the water as well. But Glen is from Miami and this isn't the first thing he's blown. Maureen Ryan from the Huffington Post piled on this show also. The Huffington Post.... Yup. Terrific to hear from "Mo"... Her all time favorite show as Battlestar Galactica. That makes me want to punch kittens. I have never met anyone that watched an episode of Battlestar Galactica and we have this as a "critic"? Dads is a funny show that allows you to enjoy selfish adult humor for 30 minutes.

…

Expand

I think this show is great. I laugh out loud EVERY episode! Giovani Ribisi is so funny, and if you don't like Seth Green, there's just

I think this show is great. I laugh out loud EVERY episode! Giovani Ribisi is so funny, and if you don't like Seth Green, there's just something wrong with you.

…

Expand

I wound up watching this in passing, mostly because of Seth Green and Martin Mull. The reality is that the trailers really do hit it on the

I wound up watching this in passing, mostly because of Seth Green and Martin Mull. The reality is that the trailers really do hit it on the head that most sitcoms don't make it past episode one. My hope is that Green's ability to write comedy and put really good funny into real life situations (racist parents who don't believe they're really THAT racist, kids who more or less have to deal with their own parents' bad decisions and awkwardness, and combine it with a razor-thin edge of a software startup environment) will come out in future episodes.

That said, for twenty-two minutes of plot exposition, Dads managed to eke out a "yeah, okay" spot on the DVR for me.

Keeping in mind that most anything with a laugh track or some kind of documentary-style "The Office" show tends to annoy the hell out of me, I'm not rolling too high on the hopes, but I'm definitely thinking if you have no ability to be patient enough for a single episode, you probably just hope Green goes back to doing show after show after show of "Robot Chicken" and fart jokes.

…

Expand

Dads does have a few moments that are actually funny even if some of them are in more of a 'so bad its good' way but overall the misses

Dads does have a few moments that are actually funny even if some of them are in more of a 'so bad its good' way but overall the misses outnumber the hits. It's not worth staying for the good bits since the ratings are so bad it will probably soon be gone.

…

Expand

I love Family Guy and American Dad and thought this had a good shot since Ted was so enjoyable. But, no. It wasn't funny, was poorly

I love Family Guy and American Dad and thought this had a good shot since Ted was so enjoyable. But, no. It wasn't funny, was poorly written, and even the very talented cast couldn't make it work.

…

Expand

TOTALLLLY INAPPROPRIAT FOR THE TIME-SLOT----DEFINITELY NOT FUNNY,TERRIBLE LANGUAGE,DRUG USAGE PROMOTED AND ANNOYING CANNED LAUGHTER...WE

TOTALLLLY INAPPROPRIAT FOR THE TIME-SLOT----DEFINITELY NOT FUNNY,TERRIBLE LANGUAGE,DRUG USAGE PROMOTED AND ANNOYING CANNED LAUGHTER...WE HAVE ENOUGH PROBLEMS WITH ILLEGAL DRUGS IN THIS COUNTRY ---WE DO NOT NEED A TV SHOW PROMOTING THIS AS COMICAL,ACCEPTABLE BEHAVIOR----SHAME ON EVERYONE INVOLVED WITH THIS ATTTTTROCITY---WHERE ARE YOUR MORAL VALUES?????

…

Expand