Network:

TNT

Series Premiere Date:

Jun 13, 2012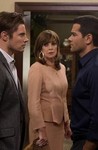 Season 2 premiere date:

Jan 28, 2013

Episode Length:

60
Please enter your birth date to watch this video:
You are not allowed to view this material at this time.
Monday night's return of Dallas is a joy and everything fans could ask for--the past, present and future all skillfully bound up in a high-gloss melodrama full of deceit, greed, Velveeta and (surprisingly enough) even love.

The plots are twistier than a fishtail braid and only lag when the conversation turns to energy. [25 Jan/1 Feb 2013, p.112]

If there's a nighttime soap any better, I haven't seen it.

The first season of TNT's Dallas reboot was far better than many had anticipated. These early stages of Season 2 likewise keep the faith.

Dallas is just as superbly soapy as ever, but you have to wonder whether the show can survive without its legendary star.

[Larry Hagman's last days on the show don't] keep Dallas from being robust fun. [4 Feb 2013, p.42]

Once again the veterans wipe the floor with the young whippersnappers.
Excellent show- well done. It is very fast paced and I love how they make the twists so amazing that you don't always see them coming at you.

Excellent show- well done. It is very fast paced and I love how they make the twists so amazing that you don't always see them coming at you. This is a very good show

…

Expand

Dallas Season 2 was a big improvement of Season 1. More twists and turns and some wonderfully written episodes. Linda Gray knocks it out of

Dallas Season 2 was a big improvement of Season 1. More twists and turns and some wonderfully written episodes. Linda Gray knocks it out of the park this year playing Sue Ellen Ewing.

…

Expand

A worthy continuation of the original series. This version is sleek and fast-paced, but keeps true to the original. TNT should move it back

A worthy continuation of the original series. This version is sleek and fast-paced, but keeps true to the original. TNT should move it back to Wednesdays. Maybe more people would watch and realize what they have been missing.

…

Collapse

Having never watched the original 70's shows I had to be practically forced to watch the new Dallas programme and I have to admit to really

Having never watched the original 70's shows I had to be practically forced to watch the new Dallas programme and I have to admit to really rather enjoying it. Yes, it is campy soap opera, but within its own limitations it isn't badly written and is performed with confidence and conviction by a great cast of old and new faces. As I am now a convert if there is a season 3 I will certainly be watching.

…

Expand

Dallas is a above average homage to the original. JR will be missed, but the young cast carries on the Ewing name. Will they ever find oil

Dallas is a above average homage to the original. JR will be missed, but the young cast carries on the Ewing name. Will they ever find oil under South Fork?

…

Expand

This is Soap Opera.... not T.V series The Bold and the Beautiful Meets Southern Cowboys!!!! Intentional drama, is not good drama.... Its a

This is Soap Opera.... not T.V series The Bold and the Beautiful Meets Southern Cowboys!!!! Intentional drama, is not good drama.... Its a show you turn the T.V on just to pass time...

…

Expand